Dylan Kerfoot-Robson (Mountain Trax RT) added Senior Men's to his palmares of Welsh XC MTB Championship titles and Ruby Miller (Hargroves Cycles) improved on her silver of last year to take the Senior Women's title.
Rain leading up to the event made a testing course an even more challenging one, on which tyre pressure would prove crucial. Race length was cut by a lap, with the fastest Senior and Junior riders clocking lap times of about 18 minutes, but it was a thumbs up for the course from the riders.
In the Senior Men's race first year Dylan Kerfoot-Robson crossed the line just 15 seconds ahead of 2014 Welsh Champion Dan Evans after a race-long battle for the 2015 title, with Steven Roach, a minute adrift, making up the Championship podium. Ruby Miller went one better this year to claim the Senior Women's title.
The Welsh Champion title was fought hard for in the Youth Boys' category where the trio of Craig Rogers,Tomos Nesham and Simon Price held one another's wheels for the three laps of their race. It came down to a three up sprint as they approached the finish together; Rogers went wide on the turn to the finish and Price cut inside Nesham, holding off his rivals as they powered to the line. Price took the win by one second from 2014 Welsh Champion Nesham with Rogers a further second behind. Megan James was a convincing winner in the Youth Girls' to make up for her disappointment in 2014 when she crashed out.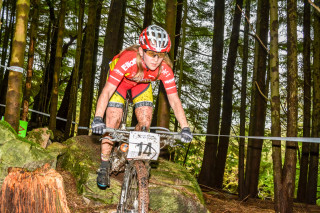 It was close in the Juvenile Boys' race too with Huw Higgins-Worrall finishing just 30 seconds ahead of the host club's Timothy Freeman; Nicole Clarke comfortably retained her Juvenile Girls' title.
In the Under 12 Boys' race Benjamin Bright took an early lead from Griff Lewis, with George Marshall moving into third place after a slow start, and with neither Lewis nor Marshall able to challenge him, Bright took his first Welsh Championship win, as did Madeleine Osborn in the Under 12 Girls' race.
As always racing was fast and furious amongst the Under 8s and Under 10s. Cian Evans took a commanding lead in the Under 8 Boys' race almost lapping the whole field on his way to victory; Under 8 Girl Faye Williams was first girl and finished 4th overall. Alfie Davies was harried from start to finish by Luke Williams but succeeded in holding him off to win the Under 10 Boys' race. An impressive performance by Evelyn Higgins-Worrall saw her finish 3rd overall and first Under 10 Girl.
In the Junior Men's category Jacob Phelps gradually opened up a gap on their final lap to finish 2 minutes ahead of Joe Barnwell. BC Olympic Development Programme rider Ffion James retained her Junior Women's title.
With Phil Morris unable to defend his title, it was Mathew Gilbert who headed the Master Men's field, finishing 2 minutes up on Grant Leavy; and in the Veteran Men's race Roy Davies crossed the line with a similar time gap ahead of Lee Davies; but with Roy not eligible, the Veteran Men's title went to Lee. Finishing with a rear wheel puncture, Janet Burthem made sure of the Veteran Women's title by running to the line, after a similar fate had befallen her rival. Grant Johnson made it Grand Veteran title number 3, beating all but the leading Master en route, and Andy Firman was first Super Veteran.
Congratulations to all our new Welsh Champions and a big thank you to the hosting clubs Clwb Beicio Mynydd Dyffryn Conwy and Dreigiau Coed y Brenin Dragons and everyone who helped to make the day a success, to Andy Braund of Natural Resources Wales and to all the riders who supported the event.
View photos from Dan Wyre here
2015 Welsh MTB XC Champions
Senior Male
1 Dylan Kerfoot-Robson (Mountain Trax RT)
2 Dan Evans (Cannondale Racing)
3 Steven Roach (Cycle-Tec)
Senior Female
1 Ruby Miller (Hargroves Cycles)
2 Angela Green (Bike Doctor)
Master Male
1 Mathew Gilbert (Wrexham RC)
2 Grant Leavy (Urban Cyclery)
3 Stephen Corbyn (KTM)
Veteran Male
1 Lee Davies (Cycle-Tec)
2 David Watt (Team Elite)
3 Hugh Lloyd (The Bulls)
Veteran Female
1 Janet Burthem (Velo Club Melyd)
Grand Veteran Male
1 Grant Johnson (Sunset Cycles)
2 Ross Porter (Cwmcarn Paragon)
3 Andrew Haines (Cwmcarn Paragon)
Super Veteran Male
1 Andy Firman (Cycle-Tec)
2 Michael Smith (Dreigiau Coed y Brenin Dragons)
Junior Male
1 Jacob Phelps (Muddybumbikes CC)
2 Joe Barnwell (Marsh Tracks RT)
Junior Female
1 Ffion James (Abergavenny RC)
Youth Male
1 Simon Price (Marsh Tracks RT)
2 Tomos Nesham (Cardiff JIF)
3 Craig Rogers (Birkenhead North End CC)
Youth Female
1 Megan James (Abergavenny RC)
2 Katie Hesden (Dreigiau Coed y Brenin Dragons)
Juvenile Male
1 Huw Higgins-Worrall (Abergavenny RC)
2 Timothy Freeman (Dreigiau Coed y Brenin Dragons)
3 Luke Simmonds (Clwb Beicio Dwyfor)
Juvenile Female
1 Nicole Clarke (Birkenhead North End CC)
2 Josie Nelson (M and D Cycles)
3 Eluned King (Towy Riders)
U12 Male
1 Benjamin Bright (Clwb Beicio Mynydd Dyffryn Conwy)
2 Griff Lewis (West Wales Cycle Racing)
3 George Marshall (Maindy Flyers)
U12 Female
1 Madeleine Osborn (Abergavenny RC)
2 Nia Barnwell (Clwb Beicio Mynydd Dyffryn Conwy)
U10 Male
1 Alfie Davies (Cycle-Tec)
2 Luke Williams (Clwb Beicio Mynydd Dyffryn Conwy)
3 Andrew Clarke (Birkenhead North End CC)
U10 Female
1 Evelyn Higgins-Worrall (Abergavenny RC)
2 Freya Evans (The Bulls)
3 Megan Blackburn (Clwb Beicio Mynydd Dyffryn Conwy)
U8 Male
1 Cian Evans (The Bulls)
2 Finn Davies (Cycle-Tec)
3 Arthwr Thomas (Abergavenny RC)
U8 Female
1 Faye Williams (Clwb Beicio Mynydd Dyffryn Conwy)
2 Annabell Ward (Clwb Beicio Mynydd Dyffryn Conwy)
3 Hannah Brotheridge (Dreigiau Coed y Brenin Dragons)