Simon Watts – British Cycling's Olympic Development Programme mountain bike coach – is buoyant as he travels to the latest round of the UCI XCO junior world series this weekend.
That's because after two years in the role he is seeing the first results-based evidence of a successful development environment, with athletes delivering on and off the race track.
When Evie Richards finished second, with Frazer Clacherty eighth and Tom Craig 11th at the recent Trofeo Dalcar, it was nothing more than justification for Watts, who had seen the potential at early season training camps.
"To be fair it feels like the momentum has been building ever since a really good training camp in February in north Wales" Watts says.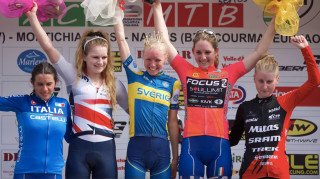 Now stationed halfway across France as he drives to Austria for the latest event in the junior world series, Watts expands on the build into 2015.
"The data then and in the March camp said they were moving on and as a coach I could see the group gelling in front of me. Right now we are only seeing in events what I was expecting based on training performance."
Watts began work as the ODP coach in February 2013 and shortly after concluded that it would take four years for a squad to be established.
Halfway into that plan and with a group of riders who have been exposed to 18 months of dedicated coaching, the foundations of that are beginning to feel complete.
That – says Watts – is down to a number of factors – namely a dedicated programme, coach contact time and the time to gather data from a broader cross section of young athletes.
He also hails the support from Performance Pathway Manager Ian Yates who, Watts says, has evolved the programmes with ideas adapted from other sports.
"All this combined" Watts summarises, "with the fact we have a relatively large group of second year juniors all with the capacity to be competitive at world level.
"The important thing is to keep the momentum building now. These next two rounds of the junior world series will be vital learning opportunities and I'm looking for the riders to continue to demonstrate the performance levels we've seen."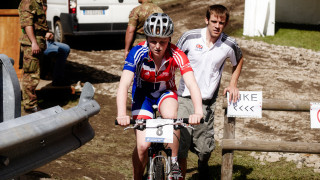 Phil Dixon follows Annie Last to the start line of the 2008 junior world championhips.
This weekend Evie Richards, Ffion James, Ella Connolly, Emily Wadsworth, Frazer Clacherty, Tom Craig, Mark McGuire and Dan Tullet line up at the Otztaler Mountainbike Festival.
When they do, their performance is to be seen as something more than another race.
Instead, it's the latest part of a journey first started in 2007 by (now departed) Olympic mountain bike coach Phil Dixon, who oversaw the development of Annie Last, Grant Ferguson and Kenta Gallagher.
Four years from now today's development athletes have the opportunity to match – or even supersede – their luminaries; but right now, Simon Watts is just focussing on the next four months and delivering the best possible group of athletes to the next step – the Olympic Academy.