Erick Rowsell (Madison Genesis) drew first blood in the Tour of the Reservoir, winning the 104-mile opening stage of the race in Northumberland on Saturday.
The second round of the British Cycling Elite Road Series, the Tour of the Reservoir took in eight laps of a circuit near Derwent Reservoir with 138 riders taking to the start.
But by the end of the race far fewer were left, with strong winds battering the exposed course and splitting the race into bits early on.
A small leading group was established as the race went on, and remained at large despite numerous chases.
But in the closing stages Rowsell attacked alone, and time trialled his way to victory ahead of Steve Lampier (Raleigh GAC) and Mark McNally (Madison Genesis).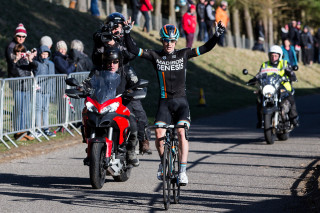 A few early breakaway attempts came to nothing, but around 25 miles into the race – and with the wind causing problems for all but the strongest riders – a group of seven broke away: George Harper (One Pro Cycling), James Lowsley-Williams (NFTO), Steve Lampier (Raleigh GAC), David McGowan (Pedal Heaven), Russell Hampton (Polypipe), Andy Tennant (Team Wiggins) and Erick Rowsell (Madison Genesis).
They worked well together, and after 40 miles they had about a minute's lead over a group of 21 chasers, with the remains of the peloton a further minute and a half back.
Several chasing groups had launched off the front, and they eventually merged, causing a chase group of around 50 riders. Series leader Ian Bibby, the NFTO rider who won the previous week's Chorley Grand Prix, was stuck in the bunch and trying to form his own chase group.
As the 50-strong chase group stalled, a trio clipped off the front, and oozed quality – last year's Elite Road Series winner Yanto Barker (One Pro Cycling), Eddie Dunbar (NFTO) and Mark McNally (Madison Genesis) attacked, and within just a few miles they had caught the leaders.
Russell Hampton soon dropped away as the leading group saw the pace upped by the injection of fresh legs, but the surviving nine ploughed on and their lead grew quickly to more than four minutes at the 70-mile mark.
As time went on it became apparent that the winner would come from this group of nine, as although their lead had dropped to 3-14, the chase had fizzled out somewhat.
As they headed towards the last lap, a concerted chase was launched by Raleigh GAC, Madison Genesis and One Pro Cycling, a 12-strong group of chasers closed to within1-42, and suddenly the fate of the race didn't look so certain.
They didn't make it across, but it had the effect of driving off the six strongest members of the lead group – Rowsell and McNally from Madison Genesis, Barker and Harper (One Pro Cycling), Tennant (Team Wiggins) and Lampier (Raleigh GAC).
With just a few miles left, McNally attacked, but as he was pulled back by his rivals, his Madison team-mate Erick Rowsell countered and got clear. His pace caught the others napping, and he managed to maintain his effort in time trial mode until the finish where he was 30 seconds ahead of Lampier and McNally.
"It was a tough race all day in this wind, and on this sort of course, and especially with being away pretty much from the start," said Rowsell. "I knew that with me and Mark in a group one of us had to attack, and my attack luckily stayed away.
"It was a good team effort. We had the numbers in the group so it all came together and it's nice to come back and win this event again after winning last year. I was confident coming into it. I rode the Tour of Normandie a couple of weeks ago, and got a bit sick in the middle, but came out of it feeling OK so it's nice to get my first win in the British series.
"The wind makes it unbelievably hard. You're grovelling around with a head-wind, but when you've got a cross-wind as well you're just battling to be in the right position the whole time.
"I don't think my legs want to do tomorrow at the moment, but I'm sure by this evening I'll come round a bit and it'll be good to get stuck in again and hopefully finish it off."

Results:
Stage one:
1 Erick Rowsell Madison Genesis 4-34-48
2 Steve Lampier Raleigh GAC at 31sec
3 Mark McNally Madison Genesis st
4 George Harper One Pro Cycling at 33sec
5 Andrew Tennant Team Wiggins st
6 Eddie Dunbar NFTO at 35sec
7 Yanto Barker One Pro Cycling at 40sec
8 Karol Domagalski Raleigh GAC at 57sec
9 Marcin Bialoblocki One Pro Cycling st
10 Ian Bibby NFTO at 1-02
11 Thomas Stewart Madison Genesis
12 Josh Hunt One Pro Cycling all st
13 Harry Tanfield JLT Condor at 1-05
14 Mike Northey Madison Genesis at 1-06
15 Mark Christian Team Wiggins st
16 Robert Partridge NFTO at 1-10
17 George Wood Richardsons-Trek RT st
18 Peter Williams One Pro Cycling at 1-14
19 Richard Handley JLT Condor st
20 Kristian House JLT Condor at 1-17