Here are six British Cycling members who together have saved over £10,000 per year by switching from rail to bike.
Chris saves £2,400 a year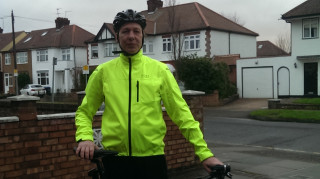 Chris, 53, commutes from Enfield to central London - a total of 125 miles a week. The financial savings, amounting to over £200 per month, are an obvious bonus but it is the health benefits that are the real winner for Chris. Cycling has given his vital statistics a welcome boost with readings for blood pressure, cholesterol and weight all much healthier after six months of ditching the train and choosing cycling.
Before commuting by bike, Chris:
Blood: pressure was 150/95 but is now 130/80
Cholesterol: was 8.1, but is now 4.5
Weight: has lost almost two stones.
With Chris feeling healthier, he is also enjoying his time on the bike more too.
He said: "I've never had a car, but never been a 'serious' cyclist ether, so I was determined this year to keep it up this year and I'm pleased to say I have. I'm now planning my first cycling touring holiday for next year too as the money I'm saving I can spend on cycling too!
"The savings are great, but commuting by bike for health, fitness and the love of cycling is what really keeps me going!"
Julia saves £648 per year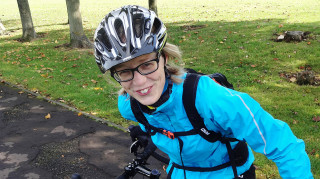 Julia started cycling to work when she lived in Germany and kept it up when she moved to Edinburgh in 2012. She specifically chose a flat from where commuting by bike would be possible. Her trip is four miles each way and is much faster and easier than getting a bus or train - and also a lot cheaper as a monthly ticket costs £54.
Julia said:
"In Germany my commute by bike helped me to lose weight, so I was generally much healthier than before. It also felt great to cycle past the cars standing in slow-moving traffic! If people are lucky enough to have a secluded cycle path available near to them, they can catch beautiful, quiet sunrises. Also, you'll find that you're considered really bad-ass if you cycle in strong rain and wind although this is actually fairly normal!"
Howard saves £900 a year
For Howard, the conversion to commuting by bike was borne out of frustration with the rail service with fare increases, overcrowding and out-of-date trains becoming a daily grind.
The switch to cycling was gradual, first by taking his new bike on his daily train from New Mills in Derbyshire to Manchester Piccadilly and getting off in each direction one station early as part of a new fitness programme. Before long, it was two stations then three until the 58-year-old was riding all the way to work and all the way back home again every day.
Financially, Howard's switch saves him over £900 per annum, while his growing interest in cycling has seen him join a club, ride sportives and even take part in a team cycling event at Silverstone.
He said: "All in all I have saved three years' rail season ticket money, lost two stone in weight, got fitter than at any point since I was 40 and found myself a 'hobby' that gives me an immense sense of attainment, great satisfaction and heaps of pleasure."
Spencer saves £2,400 a year
Having not ridden a bike since he'd left school and having spent the last 25 years working behind a desk, Spencer was overweight, unfit and at a loss what to do about it.
Following some conversations with colleagues he decided he was going to build himself a bike. After a few mistakes along the way it was finally ready to go and Spencer decided that rather than using it to cycle to the shops he was going to commute to work (a 28-mile round trip).
After a test run went well he has now been commuting four days a week for the past year and has lost a fifth of his body weight.
Cycling also saves Spencer a lot of money.
"Commuting by bike saves me £200 a month on travel costs which is brilliant. All I really miss now I've started cycling is being able to read a book on the tube, though at least I never have a problem getting a seat anymore!"
Jim saves £2,000 a year
Jim started commuting to work in 2009. Living in Ruislip, he saved over £2,000 a year riding his mountain bike down the Grand Union Canal to the West End.
After moving to Twickenham and buying a road bike he never looked back, cycling 120 miles a week and saving over £6,000 over a three-year period.
Jim now lives in Rickmansworth, and he completes a 45 mile round trip three times a week as well as riding with his club at the weekends.
Jim said:
"I'm absolutely fit as a fiddle, still saving a heap of cash and I can enjoy all the food I want as it all gets burned off on the commute. I hope more people in this country realise the health and financial benefits of cycling."
Hannah saves £1,500 a year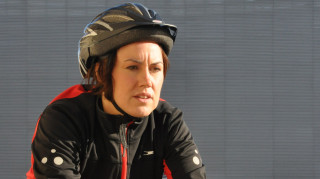 After years of commuting by train to work in London, Hannah decided to try commuting to work by bike when she signed up for a charity bike ride as a way to train, get fitter and of course save money.
When Hannah moved to the North West, she decided to carry on riding and purposely chose to live within a half an hour bike ride to work.
Hannah's daily commute from Ashton under Lyne to the outskirts of Manchester saves her £1,500 per year. Her bike costs around £200 per year to maintain and she pockets the excess £1,300 to spend on holidays.
Hannah said:
"As well as saving a lot of money and keeping kit, cycling gives you headspace and keeps you away from germs on public transport. Since I've taken up cycling I rarely get a cold!
"My advice to others is to find quiet backstreets if people are nervous of riding in traffic. People should position themselves well on the road – we have a right to be there and shouldn't be apologising for being there. I now enjoy cycling so much that I wouldn't take a job where I couldn't commute by bike."