Report: Hannah Pole
Images: Scott Sports UK
---
Just this week, dozens gathered in force at the UK's Department for Culture, Media and Sport in London to hear British Cycling's exciting plans to get one million more women riding bikes in Britain by 2020.
Back on home turf, Welsh Cycling meets one female rider who's already beginning to help shape the future for women's cycling in Wales. And the great news is; there's not a traffic congested road in sight.
British Cycling aims to inspire one million women onto their bikes by 2020
It was a sheer 'Eureka' moment that first inspired Builth-Wells based Bonna Williams, to launch Daisy Chain Bike Events, a company dedicated to getting more women on bikes through fun, safe, non-competitive events.
Peddling along on her beloved mountain bike one day last Autumn, the idea to organise a women-only off-road marathon event, free of any intimidating competitive elements, suddenly set to life.
"I'd been thinking about a ladies-only event off and on all year," recalls Bonna.
"I'd recently had a conversation with the owner of Fforest Fields about how to promote his campsite as a mountain biking venue and suddenly as I was riding along 'Eureka!'. Daisy Chain Events was born."
Now two events are scheduled for 11 May and 14 September, offering quality ride time in a supportive, female-friendly environment, complete with an array of family activities to make it a day to remember and further plans to expand.
Granted, the pathway to realising her vision wasn't quite so straightforward to begin with. A formal name had to be found for her exciting concept before Daisy Chain was finally coined.
And before that could even happen, first Bonna had to get home.
"There I was pedalling along getting more and more excited planning the event and suddenly I realised that I was miles from home and really needed to turn back!" she exclaims with such enthusiasm that I'm ready to grab a bike and get started.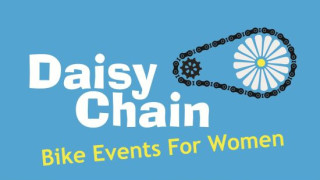 Daisy Chain aims to make riding fun, friendly and inclusive for more women
Fortunately, supportive friends and family helped come up with some useful (and not-so suitable) suggestions as to memorable names ….Handle-Bras being one of the worst…until eventually arriving at Daisy Chain.
She called on the talents of her brother, a graphic designer, to develop the carefully mastered logo through which floral elegance versus gritty mechanics in one definitive shape that is bound to be a hit with both Ladies and Ladettes.
Yet the company status which formally defines Daisy Chain is simply a formality for what is essentially less a business, and more of a resounding philosophy, driven by a personal passion, to help more women enjoy cycling. It is this inspiration which drives the brand.
The women-only format aims to make moutain biking less intimidating and encourage women who would otherwise avoid taking part in cycling. The events incorporate quality bike trails with women-friendly support on courses designed by a woman, for women.
"No roads, no testosterone, no pressure. Just fun riding your bike," explains Bonna.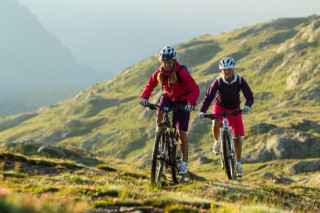 The Daisy Chain MTB marathon will cater for all levels of rider from novice to experienced
It is as much about riding a bike, as it is inspiring more women to realise their enjoyment of socialising, fun and freedom through cycling.
"There's nothing better than going for a bike ride with similar minded friends. Cycling is such a rewarding pastime," says Bonna. "It's great on so many different levels. It's a fabulous way to exercise, it can be done at whatever pace you fancy, it can easily be fitted into your lifestyle, and of course it can be a very social activity."
Riding a bike is just part of the goody bag on offer at a Daisy Chain event. Post-event massage and beauty treatments are available, with clothing and retail stands to browse at leisure. Daisy Chain's charity partner, Target Ovarian Cancer, will be present and Mountain Bike Wales will be holding bike skills sessions.
For ladies wishing to bring friends and family, the five-star Fforest Fields campsite boasts quality facilities including a boating lake. There will be a large marquee with children's activities, bouncy castle, face painting and refreshments.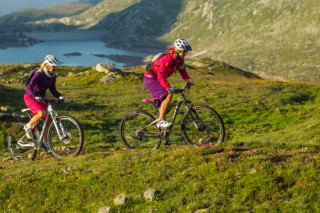 It's hoped more women will enjoy the fun and freedom of getting on a bike with friends
Let's face it though; it would be ignorant to assume the female mountain-bike market does not include ladies serious about cycling who are keen to break more than a little sweat and enjoy testing themselves in a more inclusive environment . I ask what the ingredients are for making Daisy Chain Events such a great experience for all abilities of lady rider, and not just the novice.
Bonna explains that with varying distances ranging from an easier 20km to a more challenging 40km both on offer, and diversions around the technical parts, Daisy Chain will satisfy most mountain bikers from the novice to the experienced.
In essence her courses are suited for any cyclist, but with technical options to keep the more experienced rider's interest.
Response has been good so far: "I hope that your average lady mountain biker will be attracted to the events. In fact, the ladies I've spoken to have all been as enthusiastic about the events as me," she smiles.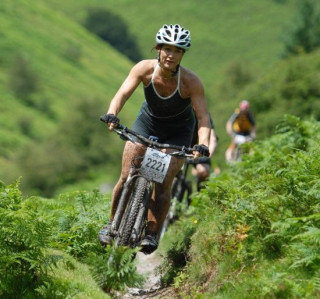 Technical options along the course will keep more experienced riders on their toes
I'm intrigued to find out why it's so important for more women to have dedicated opportunities that don't involve competing, and I press Bonna for more.
"I think for the majority of women - and possibly some men - who enjoy biking, the thought of doing a race is intimidating. A non-competitive event is much less scary, can be done with friends and may well lead to other things," she explains.
"The Daisy Chain Events are exactly the sort of event I would enjoy most, a chance to ride my bike with friends in a beautiful part of Wales, in a fully supported environment with a medal, a cuppa and friendly welcome at the finish. The bottom line is that it doesn't matter why you get on your bike - so long as you can enjoy it when you do."
What encourages me the most is that as an event organiser, Bonna has clearly enjoyed the ride too.
Upon finding her way home from her 'Eureka' bike ride, her first job was to persuade her partner, John Lloyd, an experienced cycle event organiser, to help. He didn't take much convincing.
Then there was a visit to Will and George Barstow, the owners of Fforest Fields campsite, who also fell in love with the idea. From there it has been an exciting whirlwind of setting dates, finding sponsors, launching a new website, Facebook and Twitter feeds and generally getting the event planned and publicised.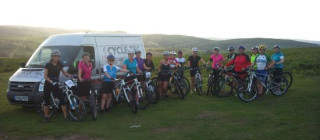 Ladies' rides have been taking place across clubs in Wales
Continued support from long-term organisers in Wales enables them to learn and grow as demand for events shifts, and there are already plans afoot to help Daisy Chain keep adapting: "I expect we'll learn a lot this year about what is and what isn't popular," Bonna adds . "Next year's events may be slightly different."
Given its infancy, Daisy Chain plans to start with just the two events for 2013, but hopes to expand and even venture beyond Mid Wales in future.
Wherever the trail leads, more events like Daisy Chain are needed to help bridge the gap in women's cycling. Bonna's enthusiasm is surely a recipe for success and quite as infectious as her simple formula for making things work: "As more women get into biking, they'll encourage their friends to take up biking and it will spiral," she concludes. "It's contagious."
Around 10,000 women are currently members of British Cycling, and as the home of cycling has this week evidenced with figures that clearly demonstrate cycling's growing popularity among women, yes it is certainly catching.
Want to be part of it? Become a British Cycling member