East Newport Cycle Speedway Club finished off their South & South Wales Season with a busy weekend of racing 29thOcotober at Newport, then a home fixture the following day against 2011 Gold Cup winners Southampton. Breaking with tradition the Conference league (u 18) kicked off proceedings and with the East Newport Dragons needing to win this match to keep them top of the league didn't disappoint their fans running out winners 63 – 80. Dan Bock was awarded Man of the match and was backed up very well by all his team mates.
Scores East Newport Dragons 80
Aaron Hughes 14+4, Adam Bennett 12,
Dan Bock 17+1, Jason Culter 6+1
Ethan Greenslade 11, Josh Davis 15+1
Ieuan Payne 5.
Scores Newport
Joe Lewis 17, J Sidwick 8
Lee Tippins 11, Jacob Soper 11
Ryan Evans 16
Next up was the 8 heat combination clash, and with East Newport leading this division by 2 points over their local rival's victory was a must for the home team, but an away win would guarantee the title stay with the defending Combination Champions for the 2nd time. Both Managers showed their intent on winning this match by picking strong looking sides. Newport started off with a finally worked 6 – 4 in heat one then the East Enders banged in three consecutive heat wins to lead by 6 points 17 – 23 with four races remaining. Heat five saw the first 5 – 5 of the day, then disaster stuck in heat 6, the referee deemed to have seen movement whilst under starter's orders which resulted in home star rider Joe Lewis being excluded, the resulting 7 – 2 for the Enders moved them 11 points in front with only 2 races to go. Heats 7 & 8 both ended in 5 – 5 bringing the final score Newport 34 East Newport 45 and thus the league title. Aaron Hughes was awarded man of the match.
Scores East Newport Combination
Colin Wildy 10, Dan Bock 14
Aaron Hughes 10+3, Matt Davis 11+1
Ieuan Payne dnr
Scores Newport Combination
Colin Simmons 11 +1, Joe Lewis 9
Kevin Greaves 9, Jacob Soper 5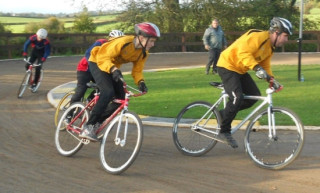 Final action of the night was division one. Victory for the home side would result in a winner takes all match the following day at home against Horspath for the division one title. East Newport tracked a very youthful looking side and put up a spirited effort. Trailing by 8 points at the interval 48 – 40 the East Newport side just couldn't manage to pull back the deficit and Newport came home with their first ever division one league points from their near neighbours 103 – 75. All the East Newport riders rode with great passion, but it was Josh Davis who shocked a few around him with his never say die and aggressive attitude which resulted in him being awarded Man of the match.
Scores East Newport
Rob Absalom 11+1, Ethan Greenslade 13
Neil Power 7, Jason Culter 7+1
Aaron Herbert 13, Adam Bennett 5+1
Ryan Hughes 10+1, Josh Davis 7
Scores Newport
Lee Tippins 14, Jack Harrold 16+1
Nicky Evans10+3, Ollie Sidwick 13+2
Chris Davies 16+1, Mark Carmichael 17+2
Dave Murphy 10, Ryan Evans 7.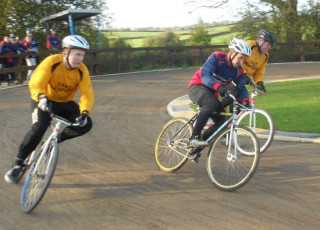 Southampton arrived at East Newport minus a couple of first team regulars, but still put up a spirited performance in trying to do the double over the East End 8 in this division one clash.
The powerful pairings of Power/Jones and Bock/Hughes got the team off to a dream start by taking first and second in the first two heats. A five all in heat 3 and then another 1st and 2nd Power/ J Davis in heat 4 & Jones/M Davis heat 5 put the home side 33 – 17 to the good. At the half way mark East Newport were leading by 13 points 51 – 38. Heats 10 and 11 were drawn 5 – 5, then any chance of Southampton closing the gap was put to bed in heat 12 & 13 as Power/Jones and then Herbert/Absalom gained maximum points to put the East Enders 21 points up 75 – 54. Two heat advantages by the away side in the final 5 races brought the final score to East Newport 98 Southampton 81.
Scores East Newport
Neil Power 15+3, Corey B Jones 15+1
Aaron Hughes 15, Dan Bock 12+3
Aaron Herbert 16, Rob Absalom 9+3
Josh Davis 8, Matt Davis 8+1
Scores Southampton
Josh Robertson 8+1, Alex Matthews 6
Hayden Chant 11, Pete Chant 11+1
Tom Colling 19+2, Ethan D Lewis 3
Ben Turner 2, Colin Wheeler 21
With the 2011 South & South Wales Combination League Title already in the bag after defeating our near neighbours Newport the night before the East Newport side knew that a win would see them go though the season undefeated ably lead by 2011 British under 13 Individual Girls Champion "Jamielea Walters" the side went out in a determined mood. The youngsters gained 4 first and second places which saw them gain a 48 – 32 win in this 8 heat match.
Ethan Greenslade topped scored dropping just one point 14+1, Jamielea Walters 11+1, Jason Culter 7+2, Colin Wildy 3+1, Ieuan Payne 3, Adam Bennett 10+1 was awarded Man of the match after displaying some fine passes from the back.
Conference League (u18) was the final action of a busy weekend and victory over Southampton would bring for the first time in the history of the Goride/Clubmark Welsh Club the Conference Title. With this in mind no one could blame the manager for picking his strongest possible side.
The Dragons started off as they meant to go on and romped into a 10 point lead after the first 4 races 25 – 15. Heat 5 saw the first 5 all of day heat 6 and 7 resulted in two 1st and 2nd places in the shape of Bennett/Hughes and Culter/Bock. With the score now reading East Newport Dragons 44 Southampton 26 and only eight races to go only a disaster could stop the home team from throwing the match away and becoming Champions. Heat 12 and Southampton gained a well deserved heat advantage in the shape of Matthews/C Wilson. The final three races which are nominated resulted two 7-3's Bennett/Davis and Jones/Bock and one 6 – 4 Greenslade/Hughes. The Man of the match award went to Ethan Greenslade Final score East Newport 91 Southampton 59
Scores East Newport Dragons
Aaron Hughes 17+1, Adam Bennett 12+1
Josh Davis 11+1, Dan Bock 13+3
Ethan Greenslade17+1. Corey B Jones 13+1
Jason Culter 6, Jamielea Walters 2
Scores Southampton
Josh Robertson 15, L Wilson 2
Hayden Chant 14, James Colling 5
Alex Mathews 12, C Wilson 5
Ethan D Lewis 5, A Wilson 1

A spokesman from the Club commented. This has been one long season for the Club and to finish it off winning 2 regional titles aint bad at all. Next season the Club will be entering more British Competitions and hope they can do better than the excellent 6th place finish they achieved this year.