28th June 2011 Newport Velo goes to Reading
With so many Newport Velo riders making the trip along the M4 to Reading it was a little difficult to work out who was on home turf! Scorching conditions after the washout of the previous date clearly suited our riders.

The club's U12's were dominant taking 1st, 2nd, 4th, 5th, 6th, 7th, 10th and 12th places in a very large field. With Rhys Britton taking an excellent win from James Tillett second on the podium and Sam Tillett, Sophie Williams, Emily Tillett, Oscar Minghay and Sophie Taylor ensuring the club took the majority of the top places.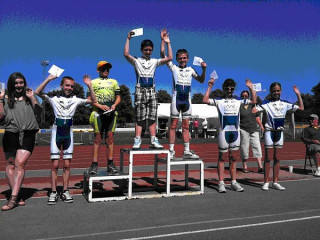 The U14 girls also showed the club is the place to ride with 2nd and 3rd going to Beth Taylor and Beth Manley. Our U16's also did well and Euan Taylor and Ethan Goddard got top 10's in the U10's with a massive field of 23 riders. Congratulations to all Team Velo riders for a great weekend of racing.