On track for success - Jody Cundy Exclusive
Double Gold Medallist at the Beijing Paralympic Games in 2008, Jody Cundy has established himself as one of the most successful Paralympians of his generation. Born with a deformed right foot which was amputated at the age of three, he was fitted with an artificial leg and hasn't looked back since. Now at the age of 33 Jody is aiming for more success in 2012 when he hopes to compete at the London Paralympic Games.
We spoke exclusively to the man from Wisbech in Cambridgeshire on the eve of Deloitte's Ride Across Britain which is helping raise £1,000,000 for ParalympicsGB. Now an established rider on the road and track we asked Jody what it was that originally sparked his love for the sport of cycling...
Jody Cundy: It was actually watching Chris Boardman winning gold in Barcelona (92' Olympic Games) that got me interested. However, it was the hour record that ignited my interest in track cycling as I followed the battle between Chris and Graeme as they went for the most prestigious record in cycling.
British Cycling: What made you leave swimming behind to realise your potential in cycling?
JC: It was after I was offered a trial to make the World Cup team in 2006. I was successful in the trial and two days later I was riding with Darren Kenny and Mark Bristow to a World Record in the team sprint at the Paralympic World Cup. After this ride I made the decision to walk away from a sport I'd been at the top of for 10 years, and pursue a Paralympic gold in a another sport.
BC: What is it specifically about cycling that appealed to you?
JC: The speed and that feeling you get when you're flat out on the velodrome. Also when I'm out on the roads training, the scenery is far more interesting than seeing the black line on the bottom of a swimming pool!
BC: You've been cycling competitively now for six years. Is there a moment in that time that sticks out the most?
JC: Beijing is the stand out moment for me, not so much for the fact I won, but the way I rode to those victories. It really was fantastic!
BC: The Beijing Paralympic Games in 2008 was obviously a big moment in your career. Can you describe what it felt like to be so successful when you won your gold medals?
JC: Relief! Knowing that all the hard work, training and sacrifices you make on the way to winning are worth it.
Having established himself as the fastest kilo rider and one of the biggest names in para-cycling, Jody is trying to eclipse the times of his able bodied equivalents and says each time he rides faster, he feels he is helping to inspire other athletes with disabilities by pushing the boundaries of the sport to the absolute limit...
"I want to show what is possible and in the process raise the profile of what we do as para-cyclists. So far I've taken five seconds off the Kilo World Record in five years. Hopefully I'll continue this progress and push the Kilo to levels that were once unimaginable in Paralympic sport. Every time I race it gets harder to find more time but that won't stop me from trying!"

BC: You recently made a foray into endurance events and you won silver in the Individual Pursuit (a brand new event for yourself) at the Para-Cycling Track World Championships in Italy in March. What was the thinking behind this?
JC: Originally it was a way for the team to score more qualification points for London but as we explored it more and my times started to come down in training, it looked like a realistic medal chance. After winning silver in Montichiari (at the Para-Cycling Track World Championships) it's now turned into a major focus in training for London.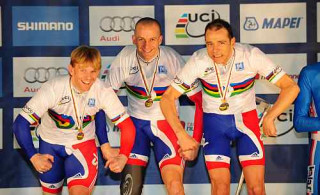 BC: The GB Para-Cycling Team is on target in terms of qualification for the Paralympics and you are one of our leading point scorers. What will be the focus over the next few months in the build up to London?
JC: On the track I'm one of the leading points scorers but on the road it's a different points total and I don't figure so highly as I'm racing against some out and out road guys who are really strong, but I keep picking up the odd point at all the events I've been racing. I'm currently out with the road squad scoring important qualification points so that we can take the strongest squad possible to London. Road racing is brilliant, it's a great way for me to build my base endurance and go to intensities that are hard to reach in training. Then when I go back to the track it will hopefully have helped my pursuit efforts without sacrificing any of my speed.
BC: Training can be very demanding and competition for places in the team fierce. How do you overcome setbacks and cope with that pressure?
JC: I've been lucky in my cycling career that I've not had many setbacks but during my swimming career I had to overcome a lot of setbacks with illness, injury and classification issues all causing problems. However with the support of my friends and family and taking advice from the experts in their field I was able to overcome all of these adversities, and return as a better athlete.
BC: How important is the support of your friends and family at competition time?
JC: My family got me started in sport and helped me as I developed, taking me to training and competitions all over the country. As I made international teams they've followed me every step of the way. It's always good to see them in the crowds and at each meet that gets closer to London my little fan club with their custom T-shirts and noisemakers gets bigger and bigger.
BC: What does it mean to have the Olympic and Paralympic Games in London and how excited are you about competing there?
JC: The Olympics and Paralympics are the pinnacle for any sportsman. To have them take place in your home country and while you're in the prime of your career, they really are the things that dreams are made of. I can't wait to the flame being lit on 29 August 2012.
Tickets for the Paralympic Games will go on sale on 9 September and cycling will be among the most exciting events to watch with many British medals expected.