Seven riders from Scottish Cycling's Performance Development programme and four of Scottish Cycling's Future Stars competed alongside stars such as Laura Trott, Geraint Thomas and Katie Archibald in Round 4 of the leading track cycling series under the new team title of Scotland Burness Paull on Saturday.
Riding on home soil with a home crowd proved to be a winner for the Scottish riders who performed at their best – with many smashing their personal bests.
Robyn Stewart, 25, one of the sprinters gained a personal best in the Flying 200 with 11.85 – her original record had been 12.1, she also came 3rd in the Longest Lap – showing off some nifty track standing skills.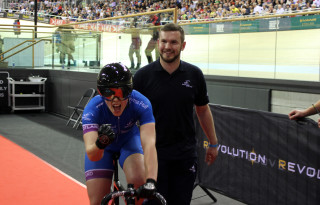 Photo: Cameron King
Emma Baird and Ellie Richardson also matched and beat their personal bests respectively, credit to the strengthening training which has been a focus for the sprinters in the past couple of months.
Neah Evans had everyone on tenderhooks during the Elimination race, where she came 3rd – pipped to the post by Olympic Champion Laura Trott, and triple European Champion Katie Archibald.
Phil Trodden and Ruari Yeoman didn't let the men down and both received top ten places – Phil got 8th in the Points, and they teamed up to get 5th in the Team Elimination.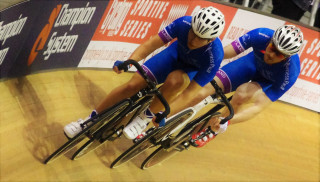 Photo: Gordon Goldie
The Hoy Future Stars didn't go unnoticed either. Lewis Stewart won both the Scratch and the Points races – securing 1st place on the podium. Rhona Callendar took 2nd place overall, with Jenny Holl making sure both Scots took a top ten with 6th place.
There were also Scots competing in other teams on Saturday night. Angus Claxton teamed up with Andy Tennant for Team Pedalsure – their 4th place in the Team Elimination helped to keep the team near the top of the table.
Andy Brown, cycling for Team USN, got 6th place in the Team Elimination.
Scottish Cycling work with over 60 athletes across a Performance Pathway designed to support riders to achieve selection on to British Cycling Performance Programmes as well as looking forward to the Commonwealth Games in the Gold Coast in 2018. Our long term objective is to develop Scottish riders into World Class Professionals in all disciplines and we recognise that achieving selection onto the GB Cycling Team programme is a step towards achieving that goal for many riders.

Photo: Cameron King
Gary Coltman, Head of Performance for Scottish Cycling says that these opportunities have a huge impact on the development of the Performance Squad:
"With the Commonwealth Games only taking place every four years, it is important that we can provide additional opportunities for riders to represent Scotland at major events. The Revolution Series provides an extremely high level, inspirational opportunity for both our senior riders but also the next generation of future stars. Our new partnership with Burness Paull is significant in enabling and supporting our participation in what is becoming a very important series to our long term goals including further Commonwealth Games success".
Scotland Burness Paull
Robyn Stewart
Emma Baird
Rebecca Dornan
Ellie Richardson
Neah Evans
Ruari Yeoman
Phil Trodden
Future Stars
Jenny Holl
Rhona Callander
Lewis Stewart
Joe Nally
Full results from the weekends Revolution Round 4 can be found here.