Earlier this year saw the launch of British Cycling's new inclusive cycling programme, Limitless. Scottish Cycling clubs, groups and organisations are playing a pivotal role in this new programme, with three clubs successfully joining the programme and with interest from many more.
What is Limitless?
The aims of Limitless are to break down barriers and make cycling truly inclusive for everyone, by creating a pathway for disabled people into all forms of cycling. Limitless will see a network of inclusive cycling clubs around the country, identified as Limitless Champion Clubs and Limitless Focus Clubs. Limitless Race Days will also offer access to entry-level competitive activity for disabled riders. Limitless is inspiring change; it is creating an open learning environment for clubs, coaches and volunteers and ultimately creating inclusive and welcoming cycling clubs and groups. Limitless aims to develop rider potential, from confidence and fitness, to skill and technique, and enhancing the current opportunities for disabled riders.
Introducing our Limitless Champion Clubs and Focus Clubs.
Limitless Champion Clubs
Champion Clubs and Groups embrace inclusivity and are committed to creating a welcoming club with inclusion underpinning all aspects of club activity. Champion Clubs and Groups will form the entry-level network of inclusive clubs and groups in the Limitless programme. Dunfermline Cycling Club and Ythan Cycle Club are the first Limitless Champion Clubs in Scotland. Both clubs have demonstrated a strong commitment to creating an inclusive club and providing opportunities for disabled riders.
When outlining why Dunfermline Cycling Club were keen to be a Limitless Champion Club, Mark Conlan explained that the club wanted to be "prepared for members joining with a disability and (the club's) leaders and coaches are able to make any necessary accommodations".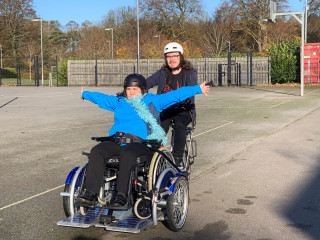 Colin Allanach from Ythan Cycle Club, explained that the new traffic free cycling circuit being built in the town will be "ideal for safe training and coaching for cyclists of all abilities and (the Club) are keen that everyone has free access to this great facility". Colin continued "the club wants to access free training opportunities to make the club and cycling in general as inclusive as we can" and that is exactly what Limitless hopes to achieve!
Limitless Focus Clubs
Focus Clubs also embrace inclusivity and provide specific additional activity for disabled people, whilst also having an awareness of the para cycling pathway. Focus Clubs have access to grant funding support to enhance the opportunities they provide for disabled people and these clubs will have or develop links with local disability networks.
Involved in the launch weekend in February, Dundee Dragons Wheelchair Sports Club are the first Limitless Focus Club in Scotland. We went along to the Dundee Dragons' session for the launch of Limitless and you can see some highlights of the activity they deliver below.
Speaking about the benefits that being part of Limitless will bring to the club, Dundee Dragons Head Coach Kevin Rattray had this to say: "we operate on the basis that it is ability not disability that counts and what we do is break down any barriers that people may face with every sport we provide". The Limitless Focus Club programme will help the club to continue to bring "physical and mental health benefits not only for the participants themselves but also for parents and carers and the wider families". The grant funding will also be very useful to the club, helping them to provide additional equipment and increase the number of trained ride leaders and volunteers at the club. Kevin explained there are a lot of wins to be gained from Limitless and what it definitely will be is more sessions for disabled riders.
Scottish Cycling are delighted to be supporting British Cycling and our network of clubs and groups in the Limitless programme and are excited to see the growth in opportunities around the country for disabled people to participate in cycling. If your club or group is interested in becoming a Limitless Champion Club or Limitless Focus Club, you can find information for clubs and groups along with the application form here or for more information please contact Julie Erskine: julie.erskine@scottishcycling.org.uk