With the course underwater 24 hours before the Scottish National Youth Time Trial at Monikie it was looking grim for the Saturday running of this year's championship. However, the morning dawned fine and sunny, Martin Harris had all the signage in place, and we had a race on our hands.
The course around Monikie has hosted these championships before with some illustrious winners in Tom Arnstein and Mark Stewart but it would be the girls who would break records this time around.
There was an open event and these were the first riders to take to the course. The rain may have gone but the wind was still blowing and the riders were treated to a nice tailwind for the first section but at the cross, and heading back, it was a tough headwind to contend with.
In the open event the win went to a strong looking Simon Stromberg (Deeside Thistle CC) in a time of 35.21 with Anna Fairweather (Spokes RT) taking the first Female prize in 36.03.
In the Championship we started with the B Girls and the first rider had a very familiar time trialing name. Kate Entwistle was riding her first TT and while the more experienced Morven Yeoman (East Kilbride RC) overhauled her within a few miles, she's got the genetic make-up to get way better in the future. Morven Yeoman would return in a time of 41.03 and this would put her into fourth spot, just 2 seconds off a podium position. Taking that 3rd position was Eilidh Shaw (Stirling BC) with the silver medal going to Imani Pereira-James (East Kilbride RC) in a time of 38.51.
Taking the top spot however was the Eva Young of Pedal Power RT in a scintillating time of 37.45, a new course record in this age category.
In B Boys Ross Birrell (Edinburgh RC) surprised himself by putting in a great time of 36.33 to take the bronze medal. The fight for gold was between Callum Reid (Speedflex RT) and Daniel Kane, flying the Ythan CC colours. Reid was looking fast and would eventually put up a time of 35.17 but he couldn't match the smoothness of Kane who returned to the timekeeper in 34.12 for the win.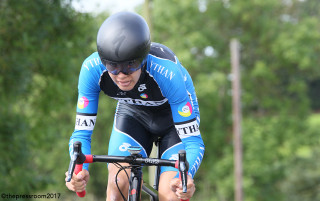 In the Youth A Girls Kate Richardson (Unattached) also broke the course record to take the Gold medal and title in a time of 36.12. This was almost two minutes faster than Anna Shackley (Glasgow Riderz) who came home in 2nd and claimed silver. Bronze went to Georgia Young (East Kilbride RC) in 40.23.
In the Boys A it came down to the last three riders off: Alfie George (Discovery Junior CC), Alexander Dent (Nevis Cycles RT) and Kyle Cartmell (RT23). Riding a standard road bike George would only post a time of 32.47 but this was good enough for bronze. He later told us that he'd lost a bit of time to the eventual winner early on but once they'd made the turn into the headwind he more or less held his own, only being caught and passed as they ran back towards Monikie.
Riding last man off Kyle Cartmell (RT23) had the advantage and would come home in a time of 32.01 for silver but there was nothing he could do about the rider running ahead of him on the road: Alexander Dent (Nevis Cycles RT). Showing little emotion, but clearly very strong on the bike, he was flying and would return to the timekeeper in 31.30…a great time but not a course record on this occasion.
This only left the team prizes to be worked out with the B Girls going to East Kilbride RC with Morven Yeoman and Imani Pereira-James, the B Boys to Edinburgh RC with Ross Birrell and Archie Ellen and the A Boys to Speedflex RT in the shape of Oscar Onley and Aaron King…there was no A Girls prize awarded on this occasion.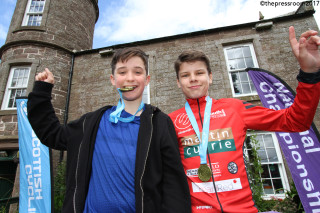 Some fine racing and some ever-improving young riders with new names being added to the start lists all the time. A big thanks to Martin Harris and his team as usual for such a well-run event.
For full results please click here.