Scottish Cycling Coaching Award Winner
Posted on: 24th August 2011
Article by: Chris Bryant
Congratulations go to Simon Fagan from the West Lothian Clarion cycling club, winner of Scottish Cycling's first quarterly award for Innovation, Motivation and Inspiration in Coaching. Simon is passionate about mountain biking and has been coaching the kids at West Lothian Clarion's GoRide sessions for the past 16 months. Simon completed his UKCC level 2 coaching awards with Scottish Cycling in the summer of 2010 and has been a vital and active part of West Lothian Clarion's coaching team ever since.
On Wednesday 22nd 2011 June he planned and organised a bike BBQ at Beecraigs Country Park. 30 young riders with their parents came along and took part in various coaching sessions and were able to relax and enjoy a barbeque afterwards. All the kids loved the activities Simon planned. The session was particularly effective because it got the kids riding in a real a real but safe mountain bike environment with Simon using his knowledge as a Trail Cycle Leader as well as his coaching skills. Because of the social aspect, the parents stayed to watch and could see how much their children enjoyed riding their bikes, some parents even took part too. Who knows perhaps of them may become a coaching star of the future?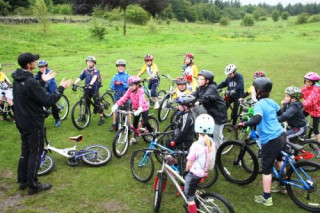 Matthew Ball, fellow West Lothian Clarion club coach and nominee for Scottish Cycling's first quarterly coaching award commended Simon saying "There was very positive feedback (from Simon's BBQ) and more sessions away from our normal location are planned in the near future"
"Simon is very enthusiastic and inspirational coach for the club and young riders." said Richard Lord, Regional Development Officer for the east of Scotland. Richard also commented "He (Simon) has also shown dedication to developing himself as a mountain bike coach by supporting Paul Newnham on talent sessions and he will also be the Team Coach for Scotland South at the Sainsbury's UK School Games in September". Seeking out opportunities for continued professional development can really add to the whole coaching experience.
Chris Bryant, Scottish Cycling's Coach Education Officer added "I'd like to thank Simon for all the hard work he's put in since qualifying as a coach and I would also like to thank all the club members who nominated their coaches for an award. We do what we can to equip our coaches with courses and resources but it is being able to use that material creatively that inspires young athletes." adding "I'd like to remind all Scottish Cycling's members that they have until the 1st of October before the second round of nominations close".
Winners of the Innovation, Motivation and Inspiration in Coaching Awards each receive a bespoke limited edition jacket from British Cycle outfitters Shutt Velo Rapide as well as a framed certificate.
Other coaches to be nominated by their clubs for the first of Scottish Cycling's Awards include: Donald Mclean (Wallace Warriors), Brynley Davies (Edinburgh Road Club), Richard Lord (Scottish Cycling), Jim Cusick (Glasgow Couriers), Edd Shackley (Glasgow Riderz), Martin Mulholland (Johnstone Jets) and Matthew Ball (West Lothian Clarion).