Posted on: 7th September 2011
Article & Images by: Bob MacFarlane, UKSG Team Manager for Scotland North

Part 1
Bob MacFarlane Team Manager
8 riders, 4 days, 5 races, 1 Silver Medal, 4 Gold medals, 1 team and 1 event the Sainsbury UK School Games. What a weekend! When I attended the Team Managers training in Sheffield at the beginning of June I wasn't sure what to expect but when I walked into the huge meeting room to the sight of 100 other Team Mangers from different sports it dawned on me this event is going to be pretty huge. Arriving on Thursday afternoon at the Athlete village in Sheffield it was still a huge surprise to see so many athletes from all across the country and then going to the opening ceremony, walking into the arena to the huge cheering crowd in the team kit knowing that I was there with a team of the best riders to represent the North of Scotland was such an amazing feeling.
Then came the hard bit 3 days to fit in 5 races with 96 of the best riders from across the country! A Dirt Crit on Friday morning, team relay in the afternoon. Uphill Mass Start Race on Saturday Morning followed by an individual time trial and then on Sunday a nice long Cross Country Race. With so many races its really hard to pick out the best bits but for me the highlights of the racing was watching Elena and Erika pushing hard in every race and beating most of a field that was made up of riders two years older! Yuka getting straight back onto her bike after a crash, that would have made me cry, in the Dirt Crit and powering back through the field to finish 7. Watching the boys in the team relay race having such seamless change overs in the transition area that they blew every team out of the water! And then on Sundays XC races all 4 girls in the team finishing in the top 15. Watching Ben recovery a huge number of places after an interaction with a thorny bush and then Iain putting a huge gap on 2nd place on every single lap. He put in such a big gap it was making things hard of the commissaire to keep track of the laps so Iain went out for an extra lap of the course just to be on the safe side!
In all it was a fantastic weekend though a few low points with Yuka's crash and Tom Van Holten breaking his collar bone in the time trial. But Yuka got back on the bike the next day and raced like nothing had happened and Thomas walked out to the side of the XC course and let the world know which team he wanted to win! I think a great experience for all the riders and for me and Scot Tares as team staff with some great results for all the hard work. I could go on and on about it I thought it would be good to find out from the rest of the team what they thought of the games
Iain Paton
The Sainsbury UK School Games was a really great experience for me. The atmosphere created by the multisport event made it a great few days. For the Cycling events it was a very big and high quality field of riders which made the racing exciting to be in and also to watch. With some good times and some disappointments I cam away from the games really pleased with three Gold medals from the Uphill Mass Start, Team Relay and Cross Country.
Liam Mclaughlin
I didn't really know what to expect from the Sainsbury UK School Games at first but when we hit the trails on the first practice on Friday morning I was really impressed> They were super flowey and bone dry. Overall I'm pretty stocked with my performance, I hadn't raced against such a high standard of riders and I never expected a win in the Time Trial event. It's still a shock! I think the most satisfying was winning the team time trial. We all worked really hard and it paid off. Sharing the win with the other guys felt top class.
Elena Melton
The Sainsbury UK School games was a really great experience for me. I had never done anything like it before. It was really fun but also quite hard work as we had to do 2 races almost everyday. I was quite pleased with all of my results as I was competing with Girls who were 2 years older than me! My favourite races were probably the cross country and the time trail. I came 7th in the cross country and 14th in the time trail. I was also quite pleased with my uphill result where I came 9th. In the team relay Yuka was injured and couldn't race so I had to do 2 laps and because we only had 3 people in our team we got pushed down to 10th, however the North of Scotland team still finished 2nd overall in the inter regional competition.
Ben Miller
The Sainsbury UK School Games was a whole new experience for me. The standard was higher than a normal British race because the event had limited it to the 4 best riders from each region so the field of 56 boys was a strong one. The first day with the opening ceremony was awesome, I was a tad hyper so I let Yuka paint Scotland flags on me and write FREEDOM down my arm so when they introduced our team I would look like some patriotic mascot. I was soon shocked when I walked on to the stage waving the Scotland flag and was confronted by what seemed like millions of people clapping, it was pretty amazing.

On the first day of racing I managed to get a silver medal in the crit champs witch was almost a gold when I came back from 20 meters down sprinting and crossing the line the same time as Stuart Wilcox, however they gave the win to Stuart. Later on that day we got gold in the team relay, even though I went the wrong way but the other lads soon made up for that when Liam had a hot lap and put us into first, then Iain increased the gap even more by smashing up the hill. Tom VH then secured the win with a solid lap and increased our lead further. It was great winning the team medal so all of us where buzzing not just one of us. Day two and it was another successful one for the North, Iain once again smashed his way up horsey hill like he was on a race horse and won the hill climb and later in the day Liam gave Danny Hart a run for his money by wining the "down hill" TT . I remember him drifting around the finish corner still pedalling (because every second counts) as the crowd took a step back waiting for him to slide out, but he held it so it was all good. But we did have one mishap on the "down hill", Tom VH had a nasty crash and ended up breaking his collar bone and was out for the remainder of the races . The final day was the main event the xc race. I got taken out by a rider who made a school boy error ( he shall not be named and shamed) causing me to crash in to a thorn bush and get my chain jammed. I ended up loosing about 25 places and 2 mins. I fought my way back to 4th place through sheer determination and maybe abit of skill. Iain once again took the win and got himself 3 nice shiny gold medals - "just like Chris Hoy at the Olympics" said Iain. Liam had another solid ride and ended up 14th, whilst Tom VH was at the side lines shouting encouraging abuse at us. In all the UKSG was a great experience and gives you an insight to what it is like in an athletes village and how your accreditation is more important than anything else and loosing it or misplacing it is not an option.
North of Scotland Team Results
Day 1
Girls Dirt Crit
10th Erika Allen
21st Elena Melton
23rd Catherine Angus
Yuka Gallagher crashed in First Heat but finished 7th
Boys Dirt Crit
2nd Ben Miller
7th Liam Mclaughlin
9th Thomas Van Holten
10th Iain Paton
Team Relay
Boys 1st Place
Girls finished 4th but placed 10th in the results due to not fielding a full team

Day 2
Boys Uphill
1st Iain Paton
11th Liam Mclaughlin
14th Ben Miller
31st Thomas Van Holten
Girls Uphill
8th Yuka Gallagher
9th Elena Melton
19th Erika Allen
22nd Catherine Angus
Boys Time Trial
1st Liam Mclaughlin
6th Ben Miller
13th Iain Paton
Thomas Van Holten DNF due to crash
Girls Time Trial
6th Yuka Gallagher
14th Elena Melton
16th Erika Allen
23rd Catherine Angus
Day 3
Cross Country Boys
1st Iain Paton
4th Ben Miller
14th Liam Mclaughlin
Cross Country Girls
5th Yuka Gallagher
7th Elena Melton
12th Erika Allen
13th Catherine Angus
Ben gets painted up before the opening ceremony
Competition between the North and south Scotland Teams was fierce over the weekend. Iain and Calum battle it out gladiator style in the arena!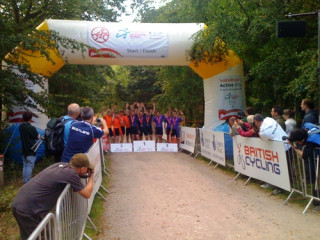 Boys Team Relay - Scotland North 1st, Scotland South 2nd, South East England 3rd
Bob MacFarlane, UKSG Team Manager Scotland North
Posted on: 5th September 2011
Article by: Richard Lord, UKSG Team Manager for Scotland South
Scotland dominate at the Sainsbury's UK School Games
The first weekend in September saw the 5th of the Sainsbury's UK school Games held in the city of Sheffield. With 1600 athletes competing across 12 sports, this was the biggest and best so far. Previously the games have seen track and road as the disciplines of choice and for 2011 it was the turn of mountain biking. Three days and five competitions made up of Dirt Crits, Team Relay, Hill Climb, Time Trial and XC races with points on offer for all racers everything was to play for and with Scotland being the home of mountain biking it would be an exciting weekend. Teams would represent North and South Scotland and before the games had started there was hot competition for all places comprised of four boys and four girls. The final teams were made up as follows:
Scotland North:
Iain Paton Catherine Angus
Ben Miller Yuka Gallagher
Liam McLoughlin Erika Allen
Tomas Van Holten Elena Melton
Scotland South:
Stuart Wilcox Lucy Grant
Ross Wilcox Isla Short
Cameron Balfour Jenna Fenwick
Calum Magowan Eve Hanlon Cole
With two strong teams Scotland were touted as the top two contenders, but which would be crowned champions?
Day One
First up was the Dirt Crit. The course was short, fast in parts, technical in others and with temperatures approaching 20 degrees the course was dusty with grip hard to find. The girls were off first the team knew they had to finish in the top half to progress to the semis. All went to plan with the exception of Yuka Gallagher. After getting caught up in someone else's misfortune, Yuka hit the ground hard, however, she remounted the bike well down in last place but races valiantly to finish seventh. After closer inspection with the medic it was decided that Yuka needed an X-ray so it was off to hospital. Scotland South got three racers to the A Final and the South one. National Champion Alice Barnes won the A final with Lucy grant in Second, Isla Short 4th, Jenna Fenwick 6th and Erika Allen 10th. Eve Hanlon Cole came third in the B Final, Elena Melton won the C final with Catherine Angus in third.
Testosterone was high amongst the boys on the grid with all fighting to get to the front to get the best start possible. Early rounds were fierce with Scotland North showing strength and depth getting all four racers to the final, Scotland South three (leaving three places for the English teams). The race was fast, fast, fast. Too fast for Ross, leading into the first bomb hole and getting the exit all wrong. With the front wheel coming under him it was over the bars, DNF and a trip to the medical tent. For those left in it, you guessed it; it was a Scotland 1, 2, 3 on the podium. Stuart Wilcox winning from Ben miller then Cameron Balfour. Ross, icing his leg and keeping the legs turning on the turbo would have to see if he could recover and race again.
The afternoon saw the team relay. Yuka had returned from hospital but was out of action for the rest of the day and we would have to wait and see if that was her weekend over. That meant Erika had to race twice. A great start was the order of the race so Lucy Grant and Erika Allen were put to the front. Both Scottish teams chose a slightly different change over line to the others. It was tight and slower coming in but the exit was fast. Catherine Angus gained three places on her change over. Scotland South were dominant coming through to take the gold, Scotland South, despite racing hard were penalized for not fielding a full team and were relegated to 10th place.
Ross was despite his thigh being sore from his stack was back to race and kept his anchorman position. The Scots jostled for the lead with Scotland North eventually coming out on top. The end of day one and Scotland South on top of the leader board. Scotland south would be separated by Yorkshire.
Day Two
In order for Ross to make a good recovery it was ice followed by 20 minutes on trainer at 10.30pm and again at 2.30am. That's life at the top and the advice worked a treat. Ross was back, not at 100% but back and keen to compete. Yuka was the same, back and raring to go.
First race was the mass start hill climb and as per the dirt crit, racers needed to finish in the top half to make the final. The first 800m would be on fire road so road and track racers would have an advantage before the final 400m on single track where overtaking is difficult. Three from both South and north made the A final with Lucy picking up the bronze. The Boys had a tough field to contend with and Cameron getting off to a great start was leading all the way until he faded with 200m to go when Iain kicked and took the lead. Cameron managed to hold off Harry Franklin (South East) to take silver. A great start to day two.
The time trial was on the menu for the afternoons racing, a tough traverse across the hill before dropping down through single track to the bottom. Two runs with the best time counting for the overall, fatigue was beginning to show as most racers had slower second runs. Alice Barnes set a time of 5:15 that wouldn't be beaten. Lucy came in second at 5:34. Jenna, Yuka and Isla all made the top eight. The boys were all geared up for a fast time and were chomping at the bit to race. Unlike the girls racing, the boys were showing strength and endurance with most riders posting a faster second run with the exception on Tom Van Holten. A mechanical on the first run meant a DNF. To make up for this fact, Tom was determined to post a time on run two, but not just a time…a fast time! This however was his downfall with a huge crash meant another trip to hospital and a broken collarbone was the end of Tom's season. It will be 2012 before he races again. The remainder was another hotly contested race with Liam this time coming out on top for Scotland North. Stuart Wilcox would be separated by Mike Thompson (North East) for bronze.
Day Three
The last and final day was here. All riders feeling surprisingly well after having a very busy few days and plenty of racing in their legs. It was time for the grand finale and back to familiar territory with the XC race. It was the same course as the relay but this time four laps for the girls and five for the boys. This was no mean feat as the course included a long fireroad climb, a short recovery followed by a technical climb to the top of the hill. And if that wasn't leg sapping enough it was straight into the fast traverse across the hills used in the time trial.
Scotland North had a healthy lead in the points table but it wasn't a time to be complacent. The girls race was fast with Alice Barnes, as in all other races, took the bull by the horns and it wasn't long before she was long gone and set for gold. Lucy looked in pain at the end of the first lap with an old injury reoccurring and headed straight to the medical tent. This would be the first podium Lucy and Scotland would not adorn all weekend. It wasn't disaster however for the remainder with Yuka (5th), Jenna (6th), Elena (7th) and Isla (10th), Erika (12th), Catherine (13th) and Eve finishing 18th showed Scotland know how to produce female mountain bike racers and not just the boys.
For the Boys, Stuart Wilcox was on the front row alongside I
ain Paton with the remainder behind. The start was tough with racers knowing they needed a great start. Cameron's start was best coming out of the single track in 4th. Stuart however dropped a chain and came through in 20th! Cameron was pushing harder still to make the front but crashed hard. He would not recover his position and finished 23rd. It was Ian from the North that set the pace and by the end of lap to he was long gone. So far in fact he didn't realise he had finished the race and proceeded with a lap of honour at full gas. Stuart, despite his mechanical picked his way through the bunch but second place was just that little bit too far. A bronze medal was his reward. Ben finished 4th, Ross 10th, Liam 14th, Calum 21st and Cameron 23rd.
Scotland South topped the table on day one and never let go despite Scotland North fighting hard. Having at least one racer on all but one podium shows the quality of racers being produced in Scotland thanks to the hard work of the clubs and volunteers. Total medals won…12 gold, 8 silver, 4 bronze and a BIG FAT TROPHY!!!
Richard Lord, UKSG Team Manager for Scotland South
UK School Games - UPDATE
Posted on: 5th September 2011
Congratulations to everyone that took part in this years UK School Games at the weekend! Some fantastic results for North and South Scotland!!! Also a massive Thank-You to all the coaches and volunteers involved that made it possible!
CLICK HERE to view the full results page
Check out the ScottishCycling
witter page for images from the weekend!
UK School Games Team Heads to Sheffield
Posted on: 1st September 2011
Team Scotland set on their way today to compete in the UK School Games in Sheffield.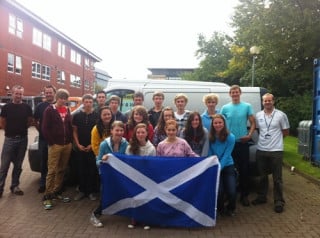 GOOD LUCK to everyone competing!