Scottish Road Race Championships
Posted on: 21st May 2012
Article by: Janette Hazlett
Mens Photograph courtesy of Iain Henderson
Womens Photograph courtesy of Leigh Marshall
---
Balfron was the place to be for road racing this weekend (well Italy for the Giro would have been good too !). Scotland's top road racers were in action in the Scottish National Road Race Championship.
In the morning it was Kayleigh Brogan, City of Edinburgh RC who triumphed in a 6 woman sprint to take the Womans title, with Katy Winton, The Kinesis Morvelo Project and Natalie Milne, Alpine Bikes taking 2nd and 3rd.
In the afternoon with the sun still shining and the crowds increasing James McCallum, Rapha Condor Sharp and Evan Oliphant, Team Raligh-GAC finally broke away from the main group and managed to get a 34 second lead at the finish. The crowds were treated to an exciting sprint finish as the two riders battled it out for the Gold medal with James the eventual winner. Alistair Rutherford, Vanillabikes.com came in 34 seconds later followed 12 seconds later by a group of 15 riders and another sprint finish this time won by Robbie Hassan, Harbalife, Leisure Lakes Bikes.com to take 4th.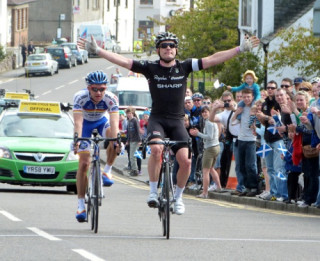 Scottish Cycling would like to thank the Team at Vortex Racing team and all their helpers and sponsors for giving the riders a fantastic opportunity to race.
More reports will be available on the Vortex RT website. http://www.vortexraceteam.co.uk/Vortex_RT_Site/Scottish_Champs.html
More pictures also available on http://www.braveheartfund.com/Community/topic.asp?TOPIC_ID=10430
Check out race report from Velo Veritas here