Female Coaching Day
Posted on: 6th July 2012
Article by: Chris Bryant
---
Scottish Cycling ran their first coach development day specifically for female coaches at Ingliston Show Ground yesterday (Thursday the 5th July). Running alongside British Cycling's Scottish School of Racing for youth riders Scottish Cycling's staff and volunteer coaches spent a morning devising fun and engaging sessions for an afternoons activities to be attended by male and female riders from across the country.
As the day progressed the weather stayed bleak but an abundance of chocolate and cake kept the coaches minds focussed (mainly on cake). Despite the distractions, as noon arrived along with our first riders for the afternoon session a plan for an afternoon of racing had immerged.
The coaches ran two skills sessions to warm our riders up for the main coach led racing element of the afternoon. As the scenario based racing heated up, the weather cleared and the course dried allowing fast speeds on a tight course. The aim of the sessions were to enable riders to ride more confidently in a group situation and watching riders race round the final tight corner towards the sprint finish it would appear that the session goals had been met by all.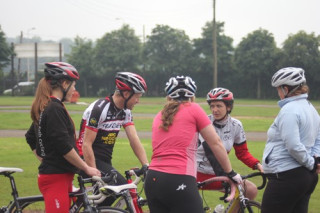 We have to say a big thanks to those riders who came out when the day was looking so drab and an especially big thanks to all the coaches. We will be running a second session of a similar format on Thursday the 19th July. Coaches to arrive at Ingliston by 09.30 and riders to arrive from 12.30. There is a small £5 charge for each participant. Male and female riders who are new to road racing are welcome at the afternoon session making this an ideal chance for aspiring 4th category licence holders wanting their first taste of racing.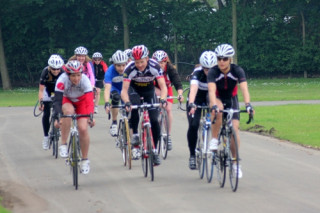 For more information or to book a place on the Thursday the 19th session please contact chris.bryant@scottishcycling.org.uk