Sandy and Kathy Gilchrist visit the South West Regional Development Programme
Posted on: 23rd January 2012
Article by: Alan Denman
---
Scotland Cycling legend Sandy Gilchrist and Top international UCI track commissaire paid a visit to the South West regional development programme on Sunday.
The visit was organized by local cycling guru Gordon Johnston who has worked with Sandy on many occasions whilst performing Great Britain team personnel duties.
Sandy talked about his career, both as a racing and team management at the highest level as well as being a team mechanic for the Specialized factory team Kathy about running the Houston velodrome in Texas and her experiences of developing young racing cyclists.
The youngsters who are all fairly new to cycling as a sport after trying racing last year for the first time thanks to the new South West Scotland Cycling Project season long race series was introduced got to ask Sandy questions on his cycling career and the experiences he'd had.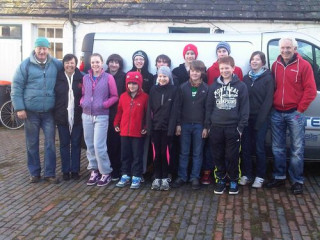 Sandy and Kathy passed on many stories of the careers and numerous highly valuable nuggets of knowledge that you just can't learn from a book.
The South West development programme has been running since the start of November and involves youngsters from the regions go-ride clubs who have learnt the necessary riding at their clubs and been bitten by the racing bug. The riders still attend regular weekly club sessions, but now also attend weekly regional sessions giving them the opportunity to learn the next level of racing skills. The programme also includes four weekly workshops covering many essential topics such as bike positioning to race day preparation. The region has also purchased it's own race kit and team vehicle and will be taking youngsters away on racing trips to compete in bigger races in England, giving them much needed experience and development in the cycling careers.
Both Sandy and Kathy commentated on how good the programme was and what opportunities it provided for the youngsters. Kathy also said how good it was to see the effort being made to include and encourage girls within the region.
The South West region would like to express how grateful they are for Sandy and Kathy giving up some of their valuable time to visit them and pass on their experiences and knowledge.