2012 Youth Tour of Scotland
Posted on: 12th December 2011
Article by: Alan Denman
---
Following on from the success of the 2011 Inter Regional Road Race Championships, a new youth 3 day stage race has been launched in Scotland.
Perth & Kinross council were keen to see the top level racing return to their area and so are delighted to host the Youth Tour of Scotland from Good Friday, April 6th to Easter Sunday April 8th.
The event for youth A & B girls and youth A boys, coming just 4 weeks before the 2012 IRRC in London will be the perfect preparation for riders and teams targeting the championships.
The organisors have put together a complete package for riders and helpers which will include full board accommodation (including breakfast, lunch and evening meal), and race entry, with entries from teams of 4 given preference.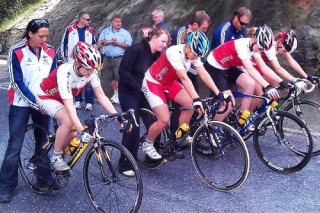 The event will be based at Strathallan School, Forgandenny.
All stages of the race will be on open roads that will be completely closed to traffic. There will also be the following jersey classifications:
1. BLUE JERSEY: Team Classification based on shortest aggregate time.
2. YELLOW JERSEY: General Classification based on shortest time.
3. GREEN JERSEY: Points Classification based on stage finishes and intermediate sprints.
4. POLKA DOT JERSEY: Mountains Classification based on hill sprints.
5. WHITE JERSEY: Young Rider Classification for boys born 1997 and girls born 1997/1998.
Order of Play:
Thursday April 5th Arrive Strathallan School 6pm for dinner and Race briefing.
Friday April 6th Morning – Stage 1 Prologue [3km] Strathallan School Afternoon – Stage 2 Circuit race [40km] Strathallan school
Saturday April 7th Morning – Stage 3 Flat stage [60km] St. David's (Girls) Afternoon – Stage 3 Flat stage [80km] St. David's (boys)
Sunday April 8th Morning – Stage 4 Mountain stage [40km] Forgandenny (girls then boys)
1pm – Prize Presentation Strathallan School and depart 3pm.
For more details, contact alan.denman@scottishcycling.org.uk