SWSCP - Prize Presentation
Posted on: 8th November 2011
Article and Images by: Alan Denman
South West Scotland held their end of season get together on Sunday which incorporated the South West Scotland Cycling Project race series prize presentation.
It was a busy biking weekend in South West Scotland, which started on Friday afternoon, with the Scottish Junior squad turning up at Kipford holiday park for a 3 day coaching camp run by British Cycling's Olympic talent coach Mark McKay and Scottish Cycling's regional development officers Mark Young (Fife & Mid) and Alan Denman (South West). The weekend comprised of a workshop Friday evening, five hours on the road and another workshop on Saturday and a two hour ride first thing Sunday morning that ended up at Laurieston village to meet up with the South West riders for a 90 minute ride around the beautiful Loch Ken.
Guest of honor for the day was 2010 Commonwealth silver medal winner Charline Joiner.
Charline met and rode with the South West girls accompanied by the regions two top female coaches Toni McCartney and Melanie Martin. After a ride through the quiet lanes on an unusually sunny day, Charline gave a presentation and a Q & A to the youngsters, followed by a chance to get up close to Charlines medal.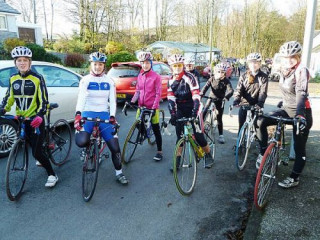 The day started with everyone getting a ride out. With over seventy riders turning up ranging from age 6 to (well very old!), five separate groups were required to cater for everyone's needs. There were two groups who went for a mountain bike ride which kept the really young ones safe and happy, supervised by local coaches along with ex Scottish Downhill champion Mark Wilcox from Next Level Bikes. Three groups on the road, being accompanied by the Scottish junior squad gave the local youngsters a real thrill and a chance to glimpse what lays ahead for them.
After the ride a buffet lunch with welcome home made soup was laid on by the willing volunteers from the region.
Once everyone was fed and refreshed the official bits began. Mark McKay explained about the Great Britain talent team and how it worked. He pointed out how excited he was to see all that was going on in the region and how it would help bridge the gap between local rider and national talent team.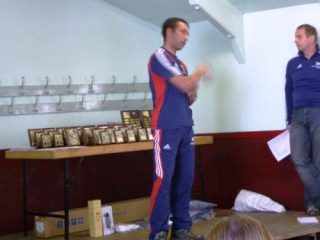 Next up was junior team captain Start McCluskey who told of his year with the junior squad, expressing how much support he had got from the coaches and how the racing trips to Belgium and Spain had helped his development.
Local RDO Alan Denman briefly explained how the mountain bike cross country and downhill programmes worked and hoped that the programme coaches who were unfortunately unable to attend would be able to come down to the region soon to talk to the youngsters.
The prize presentation followed with Charline presenting all the prizes. The day was rounded off with a special award made to Steve McCreadie who is the man responsible for getting the ball rolling in the massive development programme that has taken place in South West Scotland in the last 4 years.
Full results and more pictures available at www.southwestscotlandcyclingproject.com