---
Boardman Bikes are proud to announce the under-23 British cross country champion Kenta Gallagher will be joining Grant Ferguson on the 2012 Boardman Elite Mountain Bike Team.
Above: (left to right) Grant Ferguson and Kenta Gallagher
Kenta, Grant and Milka-Brentjens MTB Racing Team member Annie Last will all race Boardman EM1.7 bikes in national and international competition, which continues to be a key part of research and development when delivering bikes to customers worldwide.
All three riders will bring their race experience and work alongside Chris Boardman to improve on a brand - which has already won mountain bike World Championship medals and finished in the top ten of the UCI World Cup series on two occasions.
Gallagher's first ride on a Boardman came at Lee Quarry, where he piloted the EM1.0 across the variety of skills sections and declared the bike "ready to race."
Gallagher continued; "I can't wait to start racing the World Cup Series on the new bike. To be able to jump on and immediately feel comfortable with a new setup, it's exactly what you want as a rider and I can't wait to work alongside Annie, Grant and Chris Boardman himself to further improve the range in 2013."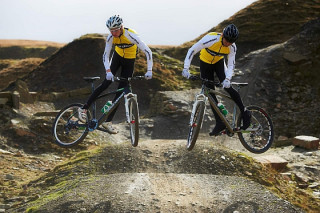 "The EM range is the culmination of over 2 years of frame development -centred around XC World Cup athlete testing and cutting edge computer simulation combined with the worlds very best components to ensure that our World Class athletes have the best possible race bike. We're looking forward to Annie, Kenta and Grant racing the bikes fast this year." Chris Boardman, Director of R&D, Boardman Bikes
Annie, Kenta and Grant will all race their new Boardman Bikes at round one of the UCI Mountain Bike World Cup Series in South Africa on March 17.