With just days to go until the 2022 Scottish Cycling Conference, we're excited to unveil record breaking international rugby referee, Hollie Davidson, will be joining us for the afternoon sessions.
In November 2022 Hollie made history by becoming the first female to referee Rugby World Cup finals in both the 7-a-side and 15-a-side game, and she will use the skills she has honed on the field to lead our 'Communication and Constructive Feedback' session.
A pioneering and inspirational role model, she became Scottish Rugby's first full-time female professional referee in 2017, and since then has officiated at the very highest level of the game. Her rugby career started as a player however, part of Scotland's U20 squad for two years, however with a senior cap beckoning injury forced her to switch tact.
Since making the switch in 2015, Hollie has built an expert understanding of the sport's laws, tactics and game situations. Swapping a graduate career in financial services for life as a professional referee, Davidson thanks Scottish Rugby for the fantastic development opportunity it provided.
And that is exactly what Scottish Cycling is hoping to offer this weekend, with a conference programme designed to be both interesting, insightful and of real substance.
On her inclusion, Scottish Cycling's Club Development Lead and Conference Organiser, Fraser Johnston, said:
"We're delighted to have Hollie joining us, off the back of an exciting few weeks for her when she's made history as the first ever female referee to officiate a Men's Rugby World Cup final. Hollie is hugely respected both domestically and internationally, and we're grateful that she can join us on the day. Her experience as a player and an official gives her a unique perspective that I'm sure will shine through in her workshop.
"The journey Hollie has been on in rugby is the type of opportunity we're looking to provide in cycling, developing future talent and allowing them to go on and reach their potential in whatever facet of the sport, or walk of life they so choose."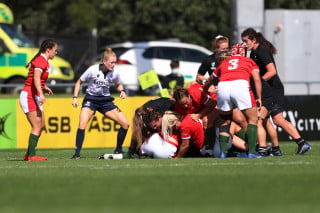 Since her international debut as assistant referee at the 2017 Rugby World Cup, Davidson has officiated at the Gold Coast Commonwealth Games, Tokyo 2020 Olympic Games and in 2021 she became only the second female to be appointed to referee a Men's Pro 14 match. In 2022 she was named on Rugby World's 50 Most Influential People in Rugby list and became the first woman to referee a men's Six Nations team when she took charge of Portugal v Italy in the summer. She also took charge of the Sevens World Cup final in Cape Town and was then appointed to officiate the 15s World Cup final at Eden Park just 62 days later, becoming the first female to referee a World Cup final in both versions of the game.
Hollie is one of rugby's most trail blazing sporting officials and exemplifies the vital role they play in sport at every level, and we look forward to welcoming her to Hampden, and the Scottish Cycling Conference, on Saturday.
Bookings for the conference remain open until midnight on Wednesday 23rd November – click here to secure your place.
You can also check out the full conference programme here.