Comebackability was the word of the day for Rab Wardell, who battled back from three punctures to take the Elite Men's title on the final lap of a great day of racing at Kirroughtree Forest.
Well known as a classy rider, Wardell would have to do it the hard way on a warm sunny day in Dumfries and Galloway, a show of incredible resilience earning him a hard fought first Scottish XC MTB title.
In an enthralling Elite Men's showdown, Lewis Martin, who is relative newbie to mountain biking, tore out of the blocks and would take the race to Wardell and the rest of strong field. But coming round on lap two the Studio Velo rider had a gap on the rest of the field, and Wardell, with a rear puncture, was back in a group containing the youngsters who would battle it out for the Junior Men's crown; Finn Mason, Reuben Orr and Sam Chisholm.
A quick change and a chase back through the field and there was a second puncture for the Wahoo rider, and at this point, with the gap to the front of the race well over a minute as he picked his way down the technical descent on a front flat, it looked like his chances of a maiden title were slipping away. Rab had other ideas though.
Martin was out front solo at this point, as Wardell changed wheels again, the junior men all still locked in battle. Martin had enjoyed great ride at the British Championships on this course a few weeks ago, despite tailing off in the closing laps, and this is what Wardell was banking on as he gave chase. At the top of the climb on the penultimate time the gap was down to less than 30 seconds, but a fast descent would bring Wardell back into contact as they passed the finish line with one lap to go.
Just a minute or so later the Junior Men's race would be decided, racing over five laps compared to the senior's six. In the closing stages Oakley and Mason had gone clear, Mason attacking up the final climb and holding a small advantage coming through the finishing fields, which would prove too much for Oakley to overhaul in the sprint for the line. Chisholm, a The Cycling Academy teammate of Mason's, would secure third.
Back with that men's race and Wardell would attack early on the final climb to move away and take a clear victory, although a puncture on the descent did threaten to ruin his fairy-tale ending! It was relief as he crossed the line, with Martin taking second and Gary McDonald, who rode most of the race with only half a saddle after an early crash, securing bronze.
Afterwards, Wardell reflected:
"I'm stoked – I'm just really happy. It felt like quite a lot of pressure coming into it, and I knew there was a chance to win, and almost as if it was my race to lose with a lot of the younger riders away prepping for World Champs next week, but I made it hard for myself unfortunately.
"The start was pretty quick and I knew Lewis would be good, as I've know him literally since he was a child, and he's won quite a few races this year, plus he's familiar with the course. He was fast on the downhills and it was on the second downhill that I got my first puncture. I managed to change it and tried not to panic but then halfway round the third lap my front tyre went flat and I had to nurse that and then change it. I then just had to press on and try and chase back.
"I was happy I managed to catch him going into the final lap, but I wasn't sure if he'd saved something, but I pressed on up the climb and managed to get a gap – I did manage to get a flat on the way down though! In hindsight I maybe would have been a bit more cautious, but it's hard because it's fun on that downhill!"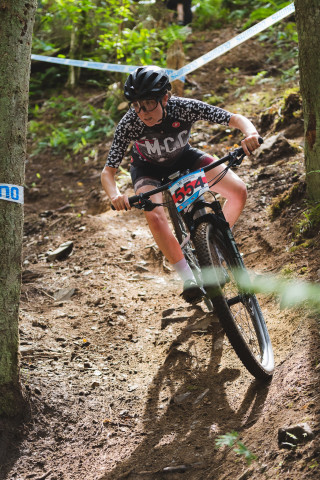 The Elite and Junior Women's races were a completely different story, with lone leaders dominating proceedings from gun to tape. Borders girl Grace Inglis, who was fourth at the British Championships on this course a few weeks ago, set her stall out from the word go, and some incredibly consistent, quick lap times saw her romp to victory by over eight minutes. What makes it perhaps even more impressive is that she only started riding a mountain bike during lockdown.
Speaking of her efforts afterwards, the Muckle CC rider said:
"I haven't done many races this season, so I'm just pleased that my form is coming together at the right time. This is my first season of cross country races, so it's my first Scottish title! I started mountain biking in lockdown and loved it, so then started cross country racing at the start of this year. The course today was really, really good, with so many fun sections, and I think having a long climb and then a descent really suited me."
Silver in that race went to Mieke Kalmijn, the Edinburgh University student putting in a spirited ride to overhaul eventual bronze medallist Jane Barr in the closing stages.
Just as Inglis had done, Isla Hedley rode to a dominant victory in the Junior race – she got the better of Beatrix Kiehlmann and Katie Galloway of Clydesdale Colts and West Lothian Clarion respectively.
Earlier in the day British champion Daisy Taylor did what she does best, taking the win and the Scottish Youth title, whilst namesake Daisy Wilkinson led an Edinburgh RC 1-2-3 in the Juvenille Women's race. In the male equivalent Innes McDonald, also of ERC took gold in the Youth event, whilst Gus Lawson took the Juvenille title.
There were also some great battles in the various Veteran categories, with results available in due course, once our timing company has enough reception to post them online! Full results will be available in due course on this link.
A huge thank you must go to Galloway Hillbillies, who once again stepped in to host a Championship race at short notice, following the British event here just a few weeks ago. It must also be noted what great feedback the course received today.
A final special thank you must go to the outgoing Scottish XC committee, many of whom are from Glasgow Riderz, for their tireless efforts over the last few years – the new committee will have a tough act to follow!