In 2019, we set out on a journey of discovery and embarked upon the recruitment of and subsequent engagement with our first ever Scottish Cycling Young People's Panel. The launch of the panel afforded us, as an organisation, the opportunity to re-frame the role that we saw young people playing in the sport, bringing them closer to the inner workings of Scottish Cycling, and giving them direct opportunities to engage in, influence and develop our work.
Now, after two fantastic years, the time has come for Scottish Cycling to part ways with our first Young People's Panel cohort. For those on the panel, their term has been a journey of growth and development. We are confident that all the members of our panel will hold the memories from their time working with us close to their heart for years to come, and will utilise the skills and qualities they have developed as they embark upon the next stage of their lives.
Despite the disruption caused by the COVID-19 pandemic, we were fortunate to be able to bring together some of the panel members for a final send-off in Glasgow last weekend. Fraser Johnston, Scottish Cycling's Club Development Manager, and leader of the Young People's Panel, planned an exciting scavenger hunt for our panel members as a final activity.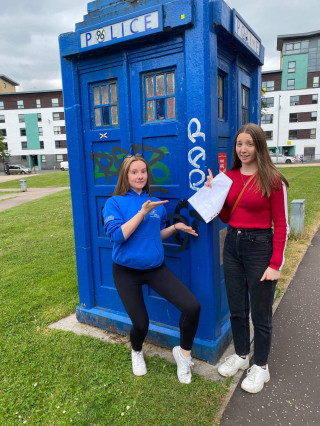 After arriving on Buchanan Street on a balmy June afternoon, our attendees were split into two teams – boys versus girls! Callum and Euan were joined by Hamish, Club Development Coordinator for the East and Central Region, whilst Erin and Sophie were joined on their team by our Club Development Coordinator for the West Region, Gill.
The task for the teams was simple – they had 90 minutes to travel around Glasgow, completing tasks and taking photographs as proof. These tasks ranged from the simple to challenging, and required the teams to work together, engage with strangers (in a COVID-safe manner!), and get their creative juices flowing to score points and emerge victorious from the challenge.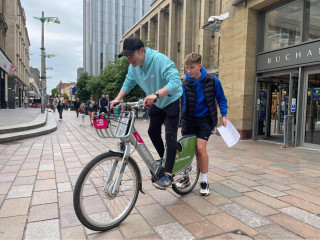 After receiving their instructions, the race commenced, and the teams began their respective journeys around Glasgow city centre. It soon became obvious that the multitude of potential point-scoring opportunities were too many to achieve within the allotted time frame; the teams therefore had to prioritise which challenges to attempt based on ease of completion and the number of points they would receive for achieving each task.
A selection of the tasks assigned to the teams included:
- Take a selfie outside four museums
- Eat a deep-fried mars bar
- Recreate the Duke of Wellington statue, with the original statue in the background
- Take a photo of one team member on a boat
- Have a 10 press-ups competition with a stranger
- Recreate a selection of cycling disciplines, such as track, mountain biking and BMX
- Sing with a busker
- Play tug-of-war with a stranger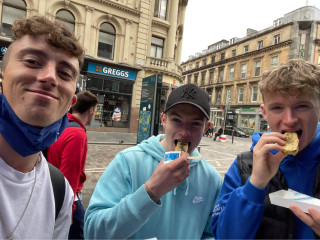 By the end of the 90 minutes of competition, both teams arrived back at Buchanan Street to await the eagerly-anticipated results. After some discussion regarding the allotted points (including an optimistic appeal from the Boys Team), the official result was announced. In the end, the Boys Team shaded the Girls Team by just eight points, finishing with a final score of 455 points to 447 points!
Of course, the final result was but a minor aspect of a thoroughly enjoyable final day for our first ever Scottish Cycling Young People's Panel. Our seven panel members came together in 2019 as strangers, and two years later, the group are finishing their term as close friends. The passion, energy, imagination and ideas brought by the panel to every interaction has inspired all of us at Scottish Cycling to continue working hard to provide a platform for young people to find their voices, and to make a difference in our cycling community.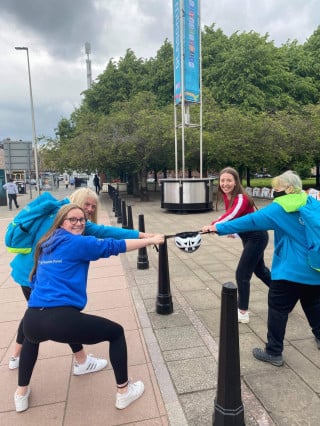 So, to our panel members, Erin, Eilidh, Ryan, Sophie, Euan, Isobel and Callum – we wish you all the very best for the future, and we thank you for your time and dedication in working with us over the past two years. We're incredibly excited to see what the future holds for you all, and we look forward to seeing plenty more of you in years to come.
And finally, to the next panel – watch this space! We will be opening recruitment in July and seeking the next group of young people (aged 14-23) to come forward and be part of it. As we rebuild from COVID-19, and head towards the 2023 UCI Cycling World Championships, there has never been a more important time to have young people involved in our work – and we're excited to see who comes forward to be a part of that experience.