For years Scottish track sprinting has been the domain of the men, with performances from Sir Chris Hoy and Jack Carlin dominating headlines. However, the wheels of change are turning as young female sprinters Ellie Stone, Lauren Bell and Charlotte Robinson are making their mark on the boards of the Glasgow velodrome, sparking a chain of inspiration encouraging more women to get into cycling.
What makes these women great sprinters? They can produce high wattage over short periods and deliver on race day. They can also hold an aerodynamic position on the bike, be efficient and have exceptional balance and coordination. Scottish Cycling Sprint Coach David Daniell has worked with these athletes to develop through a specific training plan which includes gruelling lactate sessions, track sprints and gym workouts.
Coaching through lockdown was a challenge for Dave but one he relished, "We worked with the riders to adapt the content of each session to gain the right stimulus at the right time. In most cases we had to use different things instead of the normal equipment or styles of training and activities....This year has also given us some quality time, which we have not really had before to focus on education, working with the riders and the coaching team to develop ourselves and each other."
Meet the Riders
Ellie Stone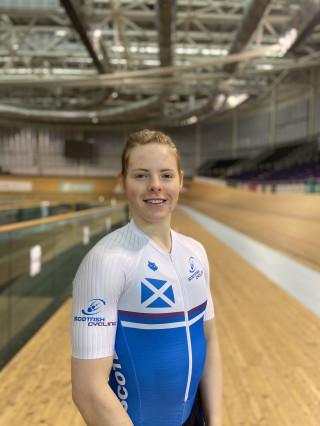 Aviemore born Ellie Stone came from a background in athletics before transferring to the velodrome in 2019. She joined the Scottish Cycling Performance Development Programme in June 2019 after catching the attention of the Great British Cycling Team Academy at the Youth and Junior Track Championships in August 2019 where she took three gold medals.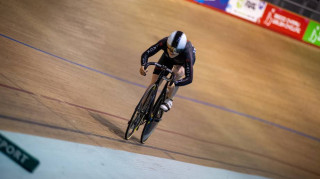 A move to the athlete house in Glasgow to focus on training at the Sir Chris Hoy Velodrome brought further progression. Maintaining the balance between sport and life is a core value coach Dave instals in his athletes. As such, Ellie still coaches athletics in Shettleston as a volunteer and will be joining the military reserves.
Every rider responded to the enforced lockdown in 2020 differently. For Ellie it was positive. "Personally I found lockdown great. Spending time with my family up in the highlands of Scotland was awesome! A home gym was the main challenge. However, once I'd built my squat rack from some timber we had I was able to hire some gym equipment so I had a good setup. I created sandbags to increase weight were I needed and my family helped out with my starts. However, towards the end I was itching to be back down in Glasgow, back on track and back into a gym with a roof and central heating."
Thanks to the hard work of Scottish Cycling and GlasgowLife, some of the performance riders have been granted access to the velodrome and Ellie has been thriving within the team environment.
Now back training consistently, the future, the road to the 2022 Birmingham Commonwealth Games lies ahead with longer term goals of Paris 2024 and LA 2028 providing motivation.
Lauren Bell

Another athlete with her sights firmly set on Birmingham 2022 and beyond is Scottish record holder Lauren Bell from Forres. Bell came to cycling aged 17 after transferring from athletics. Following a stint in the Great Britain Cycling Team Junior Academy, she began working with the Scottish Cycling team.
2020 got off to a flying start for Lauren as she won the keirin and the 500m sprint at the HSBC National Track Championships in January.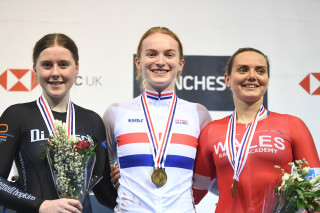 With competitive cycling on hold throughout most of 2020, Dave provided innovative training methods which enabled Lauren and her fellow athletes to retain their form and build towards a hit out in January.
Speaking about her experience of lockdown Lauren said, "Covid-19 wasn't the best for sprinters as we need the track for our training and access to a lot of weights in a gym. We had to improvise with starts on the road but living in the highlands the weather isn't always the best and it also doesn't replicate being on a track 100%. So I'm really happy to be back on the track now! And I love training in Scotland because everyone is really supportive and I'm able to still go to uni which I really enjoy."
The next year looks bright with the World Cup in Newport and the Senior European Championships in 2021. A passion for sport, and in particular strength and conditioning has seen Lauren excel in her studies at Edinburgh Napier where she is completing a course in Sport and Exercise science.
Charlotte Robinson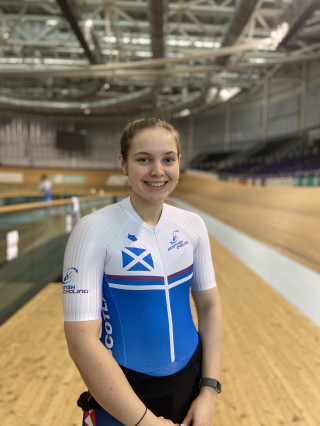 Charlotte Robinson joined the Scottish sprint pair from Warrington when she was offered the opportunity to work alongside Dave in Glasgow. Charlotte got into cycling in 2017 when a knee injury which kept her out of athletics and hockey. Her talent shone through quickly. She made her debut at Track Nationals in 2018 and joined the Great Britain Cycling Team Junior Academy in 2019.
Moving to Scotland with little prior knowledge of the programme was daunting for the young athlete, however once she met the team her fears vanished.
"Training over lockdown mostly on my own has been pretty tough but it has made me realise how important it is to have people around to train with."
Charlotte has worked brilliantly within the Scottish Cycling team and looks forward to working towards selection for the u23 European Track Championships in 2021. Alongside her training she is studying Psychology at the Open University.
Looking to the future Dave said "As the sprint squad, we're really looking forward to 2021, hopefully without as many COVID restrictions, to make the most of the gains made in 2020 and build on these throughout the year with a detailed and consistent plan."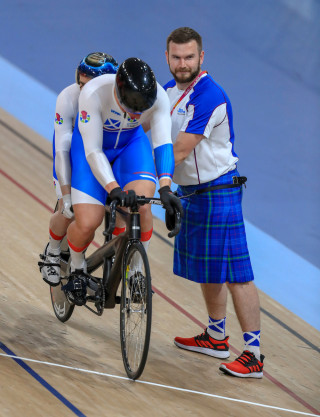 It is clear that these three young women have bright futures ahead of them. They are also perfectly positioned to inspire other females. From the velodrome and country lanes on a Sunday morning to the daily commute and school run, women are sprinting to close the gap in a male-dominated world.