Scottish rider Oscar Onley's dreams of riding the Tour de France may be closer than he thinks as he signs for the Team Sunweb u23 development team.
Borders born Oscar started cycling at the age of 10 and went on to join the Kelso Wheelers whom he credits with getting him into racing and honing his exceptional time trialling abilities.During his time as a youth rider, Oscar engaged with the R.A.C.E. programme activity, attending many cluster sessions as well as R.A.C.E. National Coaching days before joining the Junior Performance Development Programme, where he competed for Scotland alongside competing for Spokes Racing Team.
Notable results include a win at the Junior Scottish National 10 Mile Time Trial Championships and several top 10 results at the HSBC UK National Track Championships.
In 2019, following a successful block of racing in France with Scottish Cycling, Oscar announced his selection to Van Rysel AG2R La Mondiale and a move to Europe. A successful season of racing and training with the AG2R feeder squad followed. In addition, Oscar undertook French lessons and fully embedded himself into the life of a professional cyclist in Europe.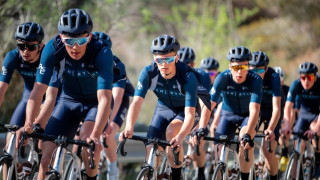 When asked about why he decided to join the team Onley said: "One of my main motivations to join Development Team Sunweb is that it will be the best environment for me to develop into a well-rounded rider on and off the bike. I chose Team Sunweb due to their forward way of thinking around technology and always striving for the best in everything they do. I'm looking forward to learning from all the experts on the team as well as my teammates in the different races we do. My main goal for the coming year is to learn how these races work and hopefully confirm what type of rider I can become in the future.
Scottish Cycling Endurance Coach Evan Oliphant said, "Its great to see Oscar getting recognised for his hard work and determination with an offer onto Team Sunweb u23 Development squad. I have been working closely with Oscar for the past year along with the rest of our institute team and it is clear that Oscar is very committed and focused not just in training but also with his off bike learning. In the few races he did this year he had impressive results and I look forward to watching his progress when he is part of the Sunweb team."
Gary Coltman, Head of Sport at Scottish Cycling said. "I'm delighted to see Oscar invited to join the Sunweb Development Team and look forward to following and supporting his progress to what we are confident can be a contract at World Tour level in the future. A key long term aim for our Performance Programme is to see riders successful at World Tour level. Having seen Oscar develop as a rider by fully engaging with all aspects of our programme including the track, his ability to perform on the road was apparent throughout and clearly demonstrated when we took a team to the Valromey Tour in France where he was noticed by a number of development teams. Sunweb has a great set-up for young riders that includes coach Matt Winston – previously a successful Junior coach at British Cycling, so we are have every confidence in the team providing the perfect environment and support to further Oscar's development toward the highest level of road racing"
A huge congratulations to Oscar. We look forward to watching him in the professional peloton very soon.