What has lockdown meant for cycling, women and girls cycling and the Scottish Cycling Women's Development group?
Lockdown has involved the suspension of British Cycling and Scottish Cycling sanctioned activities, putting on hold club rides, coaching and training sessions, competitive events, training courses and HSBC UK recreational programme rides: Breeze, Guided Rides and Ride Social.
However, cycling appears to have never been more popular, providing a suitable and accessible means for essential travel and exercise, during a time of quieter roads and good weather. According to Cycling Weekly, 1.3 million people in Britain have bought a bike during lockdown, and across Scotland cycle counters have been recording higher numbers of cycle traffic.
The Scottish Cycling Women's Development Group have continued to catch up online during the past few months, keen to explore how we can support the growing popularity of cycling and engagement with new female cyclists.
We want to celebrate the impact of cycling during lockdown by creating a short video. We would like to hear from women and girls who have been cycling during this time.
Please send us a short clip of you, and your bike (if you wish), telling us what cycling has meant for you during lockdown and/or the positive impact it's had on your life. Make it brief, and film in landscape only, please. Send your clips to communications@scottishcycling.org.uk
For women new to cycling or just getting started, a great place to begin is visiting the Women's Cycling resource on the British and Scottish Cycling website. Here you'll gain access to lots of helpful advice and resources, including information on Breeze, our women's recreational cycling programme.
When we're not in lockdown, our volunteer Breeze Champions lead rides across Scotland, providing a friendly and supportive environment where women can build their cycling skills and confidence, and knowledge of local, cycle-friendly routes. As lockdown is easing, we're getting ready for the return of these rides, following the guidance as it is updated by the Scottish Government. You will find the rides advertised on the Let's Ride website. Also look out for updates on the Scottish Cycling and Breeze social media accounts, where we'll be sure to be celebrating the return of Breeze rides.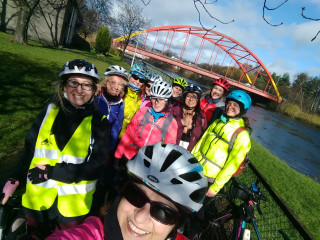 Support for women in cycling can also be found on the Facebook group Scotland's Women Cyclists, run by two members of the Scottish Cycling Women's Development Group, Kirsteen and Fiona. The group brings female cyclists in Scotland together, for involvement, encouragement, and support.
Members can post in this group to ask questions, share information about relevant events and resources, and join in the chat about all things women and cycling in Scotland.
To hear more about some of the issues affecting women in cycling, you can watch the Spokes N Words Podcast: Women in Cycling from British Cycling. The panel from British and Scottish Cycling and Her Spirit talk about barriers that have been identified affecting women's participation in cycling, interventions and programmes that are helping to grow the number of female cyclists and the panellists own ideas to get more women and girls on bikes and involved in cycling. The full list of British Cycling webinars and recorded podcasts can be found here.
You can find out more about the members of the Scottish Cycling Women's Development Group here.
More information about the last Scottish Cycling Women's Development Group meeting before lockdown can be found here.