Join mountain bike leadership experts Emma Holgate, Aneela McKenna and Christine Fox for a relaxed, friendly and social weekend of workshops helping you transition from mountain bike rider to leader.
Glenmore Lodge, nr Avimore,14th & 15th September 2019
or
The Peel at Glentress, nr Peebles, 5th & 6th October 2019
Cost: FREE - All workshops, lunch and refreshments (accomodation not included)
Closing date for Glenmore Lodge Applications: Friday 23rd August 2019 / Closing date for Glentress Applications: Friday 13th September 2019.
Who is this for?
Aspiring female leaders as they transition from mountain bike rider to mountain bike leader.
If you are female and have ever considered becoming a Mountain Bike Leader but worry you are not skilled enough, not confident in trailside repairs, unsure about your navigational expertise or just a bit nervous about taking that next step then this is the opportunity for you.
Weekend Content:
The weekends will kick off with an introduction to you as a rider and the transition to you as a leader.
We will look at the award content and introduce you to some of our female mountain bike leaders already out there, adventuring, leading, volunteering and running a business; making a living out of the outdoors.
Workshops will be led by Emma Holgate and supported by Christine Fox, with a guest speaker in Aneela McKenna for the leadership specific workshop.

We have a host of practical workshops lined up covering those areas of the British Level 2 Mountain Bike Leader syllabus that our experience tells us are considered more challenging including:
1. Trailside Repairs – workshop – basic what to carry, where to learn, what's required
2. Skills games & exercises plus personal riding techniques – skills area/grounds based
3. Route planning & Navigation – practical example plan day 2 ride out
4. Developing your leading – Guest presenter: Aneela McKenna of Go-Where Scotland and supported by British Cycling's Breeze Programme
Please note, this weekend is all about increasing confidence and realising your potential to go forward to training and assessment, it does not cover the full syllabus. You will need to undergo training and assessment in the usual way to gain the Award but you will do it with a bucket load of confidence in your skillset!
Emma Holgate - British Cycling Mountain Bike Tutor
The satisfaction, pride and excitement I get from seeing others succeed with their own riding successes following on from coaching and leading is the reason I am a part of the MTB professional industry.
I am a full time mountain biker and skier. I work as a senior instructor at Glenmore Lodge National Outdoor Training Centre, in the Mountain Bike department. As a British Cycling tutor on the leadership training and assessment courses, a Velotech tutor on the mechanics courses, as a level 3 leader and level 2 coach on all the courses that are provided. From 'Trail Plus' to our 'discover mountain biking' along with the bike packing essentials and advanced courses.
For me personally, mountain biking has so many aspects to the sport and my passions vary within, I love a session of steep and rooty then if its wet and slidy even better (I have lived in Fort William for 10 years), equally I also thrive on big adventure in the mountains. I am currently planning and prepping for a 500 mile journey bike packing light and fast through the Colorado mountains.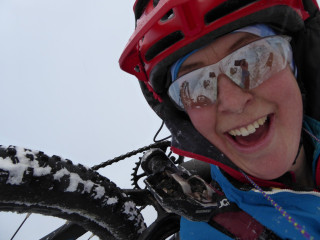 Aneela McKenna - Go-Where Scotland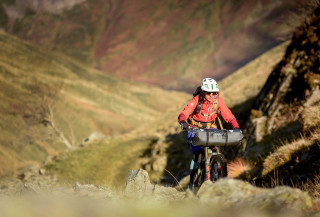 Aneela is partner of MTB tour operator Go-Where Scotland and is a core member of their guiding team. Whether she's leading tours in the incredible landscapes of Scotland or rallying people from all walks of life to swing a leg over the saddle - Aneela brings 20+ years' as a Diversity and Inclusion professional into everything she does. She is an ambassador for Juliana Bicycles (since 2013) and is passionate about encouraging people from all walks of life to ride bikes. She works tirelessly to increase diversity in mountain biking and firmly believes that mountain biking is more than a sport - Aneela champions the wider benefits of mountain biking to help build confidence, strength and resilience in everyday life.
How to Apply:
- compete an application form
- have a full British Cycling membership of Ride level of above
- the course is fully funded but should you cancel with less than a weeks' notice, you may be charged the course cost (£250)