Weekend Events Report: 4th/5th 2019
HSBC UK National Cross Country Series: Round 3
Scottish mountain bikers were once again dominating at the HSBC UK National Cross Country Series in Cannock this weekend.In the elite women Scottish National Cross Country MTB National Champion Kerry Macphee took 3rd after a tough race for the podium places. Grant Ferguson just lost out on the win to Cameron Orr. In the junior women's race Anna McGoram who leads the series overall was 2nd and Anna Flynn 3rd, highlighting the real strength and depth in female Scottish MTB at the moment. Stirling Bike Clubs Charlie Aldridge put in a suberb ride to take the win in the junior men, while Rory Mcquire was 3rd.
Check out the full report by 5311 Media HERE
BMX: Scottish Regional Round 3 2019
The Musselburgh Monarchs hosted the 3rd round of the Scottish BMX Regional Series. Full results to follow.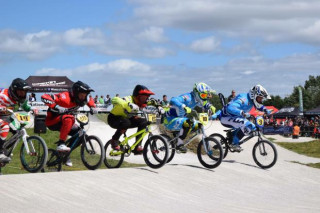 HSBC UK National Downhill Series Round 2
Warming up to the MTB World Cup in Fort William this weekend saw the HSBC UK National Downhill Series Round 2 decend on the Nevis Range. This event also formed the Scottish Downhill Series Round 3. Some exceptional results from Scottish riders who were racing against some of the worlds best international downhill athletes. Scots won both the Junior events – Jamie Edmondson the boy's and Tea Jenson the girls event.
Full report available HERE
Check out the full results HERE
Sigma Sports Classic Time Trial Series, Castle Douglas
Kyle Gordon and Katie Archibald took the honours at the Scottish round of the Sigma Sports Classic Time Trail. Gordon, fresh off his win at the Scottish National 10 Mile Time Trial Championships last week, won the event in 54.48. Archibald took the womens prize in 1.02:44. She will be racing in Scotland again this week as part of the Scotland Women's team at the Tour Series in Motherwell and Aberdeen.