SXC Mountain Bike Series
Dalbeattie Forest, Dumfries-shire
Sunday 30th March 2019
The SXC headed to Dableattie in Dumfries and Galloway for the second round this weekend, met with much better conditions that an Cathkin Braes two weeks prior. Regional Development Officer Fraser was down volunteering at the event and gave us this report.
"The highlight for me was the Youth races where we saw Corran Carrick Anderson continuing his winning streak from the previous week where he took the win at the first round of the British Series at Sherwood Forest, leading from the start and finishing just over 5 minutes ahead of the 2nd placed rider. Gregor Robb, Finton Price and Ben McMullen battled throughout the race with Gregor eventually distancing the others to secure 2nd with Finton home in 3rd. Elena McGorum in the Youth Girls rode to an impressive win, finishing over 9 minutes ahead of the next rider.
The change in order of the racing by this year's organisers has made the afternoon far more entertaining to watch. British Champion Grant Ferguson held off close competition from Olli Dawson and David Duggan in the Expert Men while Jane Barr finished strong in the Elite/Expert Women, with a 7 minute gap back to Joanne Thom in 2nd. Scottish Cycling's very own National MTB Coach Paul Newnham also took the win in the Veteran Men's!"
The next round of the SXC takes place at Beecraigs Country Park in Linlithgow.
You can still enter here.
MTB Junior World Series
Marseille, France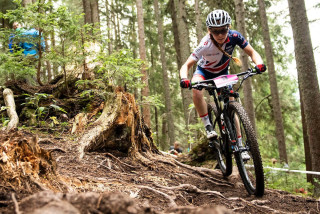 Charlie Aldridge raced brilliantly to take second in the Junior Men's World Series. Anna Mcforum narrowly missed out on a top 10 finish after puncturing, while Anna Flynn came 25th overall. Isla Short and Sean Flynn competing in the Elite race, placing 9th and 6th respectively.
Were you racing this weekend? Don't forget to tag @ScottishCycling #SCResults to let us know how you got on.