Go-Ride is entering an exciting new era for Scottish cycling which was conveyed in the theme of the 2019 Go-Ride Conference; A New Horizon. The Go-Ride Conference kicked off the inaugural Scottish Cycling Conference & Awards Weekend which saw the Go-Ride Conference, Roll of Honour and Event Organiser and Commissaire Conference brought together in to one weekend.
With young people at the forefront of the Scottish Cycling strategy, launching in April, the action packed Go-Ride Conference was opened by Alex Ball who is a Scottish Cycling Junior Development Rider, member of Edinburgh Road Club, and former sportscotland Young People's Panel member. Alex was joined by Kirsty Ewen, another former member of sportscotland's Young People's Panel and recent winner of BBC Sport's Personality of the Year Unsung Hero Award. Alex and Kirsty shared stories about their journey through sport, highlighting the positive impact which sport can have on a young person's life both inside and outside of the traditional competitive sporting environment.
Concluding the inspirational session, the launch of the first ever Scottish Cycling Young People's Panel was announced. Applications are open now until 31st March and more information about how young people aged between 14-23 can shape and influence the future of cycling can be found .
The day continued with delegates opting to attend a series of either a coaching-focused or club development focused sessions.
Coaches heard from Dr Russell Martindale, Associate Professor at Edinburgh Napier University on the effect of learning environments and the associated impact on talent development, whilst club volunteers considered how adopting a growth mindset could unleash new potentials and opportunities for club growth, led by Jamie McBrearty from YMindset.
Coaches continued their development with the observation of a range of practical coaching sessions which were delivered by Scottish Cycling Coaches. The coach development opportunities were then concluded with a hugely energetic and practical workshop delivered by Doug MacDonald from Scottish Canoe Association on the power of learning through deliberate play.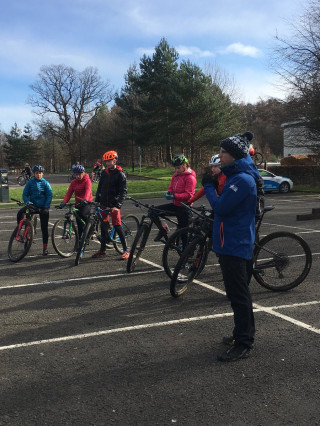 Club volunteers spent the afternoon considering the importance of having the right legal structure in place, with expert advice provided from Harper Macleod LLP, followed by an updates session on new standards for child wellbeing and protection in sport which are being introduced by the Safeguarding in Sport Service. Club volunteers ended the workshops with a fantastic and thought provoking session with Jamie MacDonald from Scottish Athletics considering revolutionary actions which have the potential to evolve clubs and grow membership at a phenomenal level.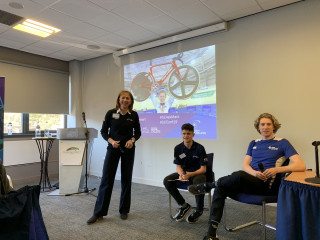 The Go-Ride Conference 2019 was brought to a fantastic finish with a direct and insightful Q&A session with Commonwealth gold medallist and former Go-Ride Club Member, Mark Stewart and hosted by Alex Ball. Mark, formerly a member of Discovery Junior Cycling Club, was refreshingly open and honest in sharing his views on the importance of Go-Ride clubs, the value of coaches, the highs and lows of training (including the quantity of pizza), winning, losing and how the most important thing is to just 'love riding your bike'!
Reflecting on the key messages of the day, Sophie Warburton, Development Manager at Scottish Cycling said:
"It was fantastic to hear energised and creative discussion around the room, from clubs from around the country, about how we collaborate to put young people at the centre of what we do. This is truly what Go-Ride is about."