LGBT History Month takes place in February every year. It's an opportunity to celebrate LGBT culture, reflect on LGBT history and look to the future of activism.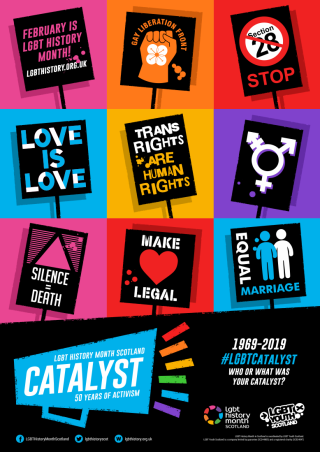 LGBT History Month is for everyone: community groups, organisations, individuals, activists, service providers, LGBT and non-LGBT people alike. Importantly, LGBT History Month is a great opportunity for local authorities, businesses and third sector organisations to show their support for LGBT people.
Every year LGBT Youth Scotland works in partnership with groups and organisations all over Scotland to programme a range of arts, cultural and educational events.
The LGBT community in Scotland have been on an incredible journey over the last 200 years, please have a look at this fascinating guide to Scotland's LGBT History
Scottish Cycling is proud of its current work within the LGBT community and of our partnerships with LEAP Sports Scotland and the Equality Network. We are working towards making cycling an inclusive and welcoming activity for all within Scotland and would like to sign post all of you who are interested, to this series of informative and entertaining events being hosted by LGBT Youth Scotland and their partners over the coming few weeks as a part of LGBT History Month Scotland.
If you, as part of the cycling community, would like to host an event in cooperation with the series, get in touch with the organisation directly and remember to let us know so we can share!
Download the participation guide from here!