Tissot Track Cycling World Cup
30 November - 2 December
Berlin
Scottish favourite Katie Archibald demonstrated once again that she is a force to be reckoned with in the omnium as she emerged victorious at the TISSOT UCI Track World Cup in Berlin this weekend. The event was not without its dramas however. Having dominated in the Tempo, Scratch and Elimination races she crashed in the point race. Thankfully, after a speedy recovery she took her second title of the weekend.
Archibald was also part of the Women's Team Pursuit foursome who stormed to victory in the opening night of the Track World Cup.
This win saw her join fellow Scot Mark Stewart who was partnered with Ollie Wood in the Madison on the podium on Berlin. The pair secured their second successive Madison silver with an impressive dramatic finish. Jack Carlin was part of the Team Sprint who rode a brilliant race to take home Silver.
HuubWattbike made it into the Bronze medal race against Canada coming away with forth. Jonathan Wale was also 9th in the Kilo. The team are now looking forward to the London round of the Track World Cup to really make their mark on the Team Pursuit event.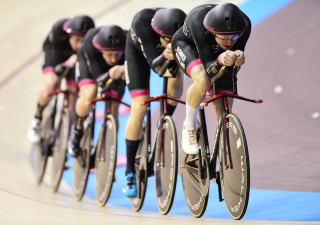 Read more about the event from British Cycling here
Scottish National Madison Championship 2018
Saturday 1st December
Sit Chris Hoy Velodrome, Glasgow
Saturday saw the last indoor Scottish National Championship, and penultimate one of the year, as the track riders gathered at the Sir Chris Hoy Velodrome for the Madison Champs.
Read the full report from The Press Room here.
Scottish National Cyclo-cross Championship 2018
Sunday 2nd December
Fife College, Fife
This is the third running of this relatively new event but such is its reputation for all things mud, and the superb organization from Paul Davies and his merry band of helpers, that it had attracted the Scottish National Championships for this year.
Read the full report from The Press Room here.
Were you racing this weekend? Make sure you tweet @ScottishCycling and use the hashtags #NationOfCyclists #SCResults to let us know how your race went.