Images: 5311 Media
HSBC UK National Cyclo-Cross Trophy
York
Eileen Roe (Dooleys Cycles) just missed the top step at the HSBC UK National Trophy in York this weekend.York hosted a round of the series for the first time and the wet, muddy conditions made for difficult descents and technical off-camber climbs. The hardest section of the course saw Junior Harriet Harnden make her move and pull away from the leading group. Row was able to follow, resulting in a nail biting race with Roe demonstrating exceptional bike handling.
Fellow Scot Cameron Mason had a great race taking third in the Under23s. He handled the classic CX conditions brilliantly, proving his racing in Belgium is paying off.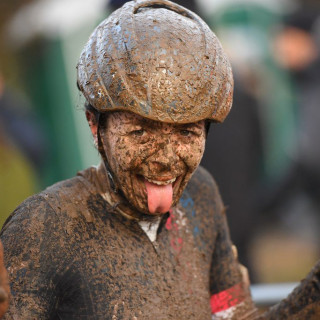 Plean CX
Plean Country Park, Stirling
Results
Next weekend will see the very best of Scottish Cyclo-cross turn out for the Scottish National Cyclo-cross Championships at Fife College.
Scottish Mountain Bike Conference 2018 - Future Proofing the Trail Ahead
Aviemore
This weekend saw Developing Mountain Biking in Scotland host their biennial conference at the MacDonald Hotel in Aviemore. The conference was a huge success with speakers and workshops exploring the issues facing the mountain bike sector both in Scotland and globally. The weekend also featured some night riding and a Ceilidh night with a Scottish banquet which everyone thoroughly enjoyed, especially the international guests.
Were you racing this weekend? Tweet @ScottishCycling and use the hashtags #NationOfCyclists #SCResults to let us know how your race went.