HSBC UK Cyclo-Cross National Trophy, Round 2
Irvine, Scotland
This weekend, Scotland welcomes the second round of the HSBC UK Cylco-Cross series, taking place at Irvine Beach Park. The event, which is a UCI Category 2 race, utilises a newly-designed course to incorporate Irvine's classic sand sections and traditional cyclocross features.
This will be the first time that a British Series Cyclo-cross event takes place in Scotland. The success of the application is testament to the hard work of the organising club and partnership working between Walkers CC, North Ayrshire Council, the Scottish Cyclocross Association and Scottish Cycling.
Craig Burn, Scottish Cycling Chief Executive said, "We are delighted that the second round of the HSBC UK National Trophy Cyclocross Series will be held in Scotland. We are extremely proud of the success of our cyclocross riders and organisers in Scotland – be that at local level to introduce riders to the sport right up those racing at World Cup level."
Tissot UCI Track World Cup
Milton, Canada
Rio 2016 Olympic champion and Commonwealth gold medalist Katie Archibald will race on the track where she claimed two first place finishes in Madison and the points race in Milton last year. In a recent interview with British Cycling, Archibald was forthcoming about her ambitions for Tokyo 2020.
"I used to take it as a baseline that, if you're a competitive cyclist, you should want to go to the Olympics and do everything, so in my case, team pursuit, madison and omnium," she explains. "I still think it's a natural thing to aspire to, but now I realise it's not a case of whether a rider can 'manage' all three, but rather whether they can be gold medal competitive in all three.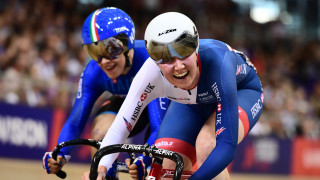 "I really want to believe I can be there for the team pursuit, at the moment I'm aspiring to be there for the madison, and so the question is can you put the omnium on top of that – can anyone?"
Hopefully Katie can bring this fighting spirit to the track in Canada at the weekend.
Mark Stewart will also be taking on all three racing, looking to secure victory in the team pursuit, madison and omnium.
John Archibald and Jonny Wale will be looking to building on their result in the team pursuit in France with Huub-Wattbike.
6 Day Series, Round 1
London
23 – 28 October 2018 will see Six Day London return to Queen Elizabeth Olympic Park for the fourth year in a row. With the world's best riders set to take part across the Men and Women's competition, the event will kick off the 2018/19 Six Day Series in spectacular fashion. Scottish rider Joe Nally will be racing across the week, having had a brilliant season including racing in the Tour of Britain. Good Luck Joe!