Scottish Cycling would like to take this opportunity to congratulate the six Scottish riders that have been selected onto the Great Britain Cycling Team Senior Academy and Senior Squad in the 2018 - 2019 rider intake.
Rhona Callander, Jenny Holl and Joe Nally return for the Senior Academy Endurance programmes.
Lewis Stewart is again selected for the Men's Sprint programme alongside Ali Fielding who has been promoted from the Junior Academy.
Lusia Steele, who has ridden for the Great Britain Cycling Team already this year, has been selected to the Women's Sprint programme from the Scottish Cycling Performance Development Programme.
Tom Stanton, performance pathway manager for the Great Britain Cycling Team, had this to say about the selections: "Each year, the standard of applications we receive to join our senior academy programmes for the track disciplines and the senior squads for BMX supercross and mountain bike cross-country disciplines, is impressively high and is testament to the hard work which goes in by British Cycling at a grass roots level.
"This year was no different, and I'm confident we have selected a squad with bright futures to continue the legacy of the Great Britain Cycling Team's success."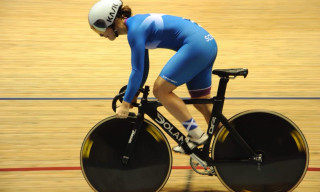 When asked about her selection, Lusia said: "I'm excited to join the senior academy sprint programme this year. I've had a few opportunities to train and compete with the Great Britain Cycling Team and I've learned a lot from being around the support staff and the other riders. Now that I've been accepted onto the programme, I can focus fully on my training as well as benefit from the support that British Cycling can offer its riders."
To see the full release from British Cycling click here