Words and Images: The Press Room
It was a day of mechanicals, a costly puncture, forgotten shoes and a spectacular crash but the Dooleys Cycles Women's team and the men from Bioracer-Project Go once again climbed onto the top step of the podium to claim their medals…and pick up a bridie to eat on the way home!
The hardest working man in show business, Martin Harris of Spokes RT, once again delivered a superb Scottish National Team Time Trial Championship, aided by a legion of helpers drawn from the host club and loads of his Discovery JCC club mates. He'd even managed to lay on some sunshine, light winds and a bridie bonanza for all of the winners!
The team time trial however, is the epitomy of teamwork as the riders have to work together for a common goal, and in some cases, sacrifice a rider for the benefit of others
The big change this year was that the women's teams could be comprised of four members and this can have both a positive and negative effect. On the downside, clubs struggling to find three racers would now be looking for a fourth (although they could also race with just three) but on the positive side, the workload could now be shared between four and, as Dooleys Cycles' Mireille Captieux said, "if a rider has a mechanical, the others would have had to wait in order to finish."
This course based on Forfar is fast becoming the home course for the Championship and it resembles a triangle. A fast run out from Forfar with long exposed straights connected by short twisty sections through trees meant that the riders had a slight tailwind, although nothing much to speak of. A crosswind section on the shorter second leg followed by a long run back to Forfar. This should have seen the riders faced with a slight headwind but Bioracer-Project Go's Jason Roberts said, "The wind on that leg was strange as it was coming across the road, backwards and forwards, making it difficult to keep a tight formation."
With riders taking on two laps of the course we'd positioned ourselves for the first pass close to the end of the first leg where there is pretty much the only real rise on the course, short though it is. The first Championship team to come past was the RT23 women's team, with a slight change to last year's line up. Pamela Craig and Amanda Tweedie had Anna Fairweather replacing Catriona McGillivray, and they had now been joined by Aileen Clyde. They had placed 3rdlast year and were hoping to move up the podium. Pamela Craig was pulling hard on the way out but unfortunately would lose contact before they came around again and the three remaining riders would post a time of 1:39:14 to eventually put them on the second top step, one up from a year ago
The women's team from Stirling Bike Club always looks smooth on the road with only some shouts of "steady, steady" being heard as they climbed the rise second time around. They were almost a minute faster than the RT23 team on the first lap but the pace was taking its toll and they finished in 1:40:25.
This only left the defending champions Dooleys Cycles to come past…and we heard them before we saw them! We could hear shouting and then only two riders appeared. Laura Nicolson and Janet Tait were on their own but then we saw Lynsey Curran a little way back and looking over her shoulder. Their fourth rider, Mireille Captieux, had unshipped her chain and was trying to get back on, Lynsey Curran doing her best to wait for her. Despite chasing for the rest of the race, she wouldn't make it back and the others had to push on. They would eventually go on to finish in a time of 1:34:57 and win by almost four and a half minutes but they must have been hoping to surpass last year's time of 1:30:55, their course record.
On to the Men's Championship and the first of the Dundee Thistle teams came by. Officially tagged as Vets they were looking smooth and would finish in a time of 1:38:42 and would take club honours as their A team lost Angus Wilson to a puncture on the second lap. A real shame for the men in orange as the A team first lap was done in 41:28. With only three riders setting off, the loss of the third man was crucial.
Peter Ettles' RT23 had riders to spare and they managed to field four teams overall, three men's teams and one women's team. Steve Beech's squad was the first to come by and they were very consistent, their second lap only being two minutes down on their first and giving them a finishing time of 1:31:36.
The B team containing the young guns of Kyle Cartmell and Ali Munro would better their elders in a time of 1:23:47. It was a close-run thing with the host team from Spokes RT as the RT23 team took only three seconds out of them on each of the two laps. This settled the 4th and 5th positions but the battle for podium honours was on.
Jim Cusick of Dooleys Cycles must have more medals than just about any rider still competing in Scotland and this race was to be no different. It was good to see Finlay Young back racing and as they came by for the first time he was leading the team up the hill. He would eventually drop off leaving the rest of the team to tackle the second lap and finish in 1:22:14 to claim bronze.
This was a tactic being employed by most of the top teams and Peter Ettles had firmly planned his day to pan out in exactly this fashion. However, a touch of wheels on the home leg (Kyle Gordon said they were doing well over 30mph) saw Ewen MacGillivray hit the ground hard and crash out. A moment's indecision in the team before he waved them on and Peter Ettles realised he'd have to do the second lap! They finished in a time of 1:18:42 (38 seconds quicker than last year) and would surely have been challenging for the top step if Ewen hadn't crashed.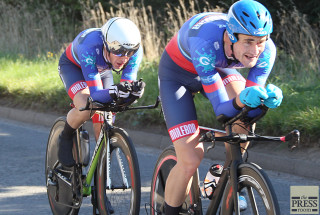 This left only the defending champions, Bioracer-Project Go being the successors of ProVision Scotland. This is a close-knit squad with Richard McDonald now in place of John Archibald. Richard has been riding really well this year and slotted neatly into the vacant slot. Their first lap split of 36:57 had them on top of the time sheets and, like most of the top teams, they only slowed by a couple of minutes second time around to finish in 1:16:40, a superb time and a win by just over two minutes. This time was also just under a minute shy of their course record from last year…Jason Roberts later saying "it was one of the hardest races I've done, no longer being able to shelter behind John Archibald."
We had our winners for the day but it was back to the hall where every winner received a bridie from Forfar's McLaren and Sons to go with their medals. This is similar to pro races in France and Spain where winners receive produce local to each particular region.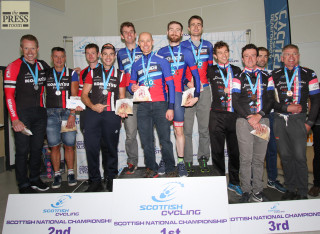 A special mention has to be made for two teams: the Squadra Scozzese riders finished in a time of 1:29:22 riding on youth gears and rider of the day has to go to Ross Thompson of the Bioracer B team who forgot his shoes and rode the whole race in trainers. An emergency Christening meant that they only had three riders to begin with so he had to complete the full distance and they did it in 1:26:21.
It's back to the velodrome now for the Omnium Championship next weekend. We'll see you there!
Did you race this weekend? Don't forget to tag @ScottishCycling and #SCResults