Words by Mark Goodwill/The Press Room
Images by Mark Goodwill/OrangeFoxBikes
Scottish Championships, sponsored by Green Energy are looked forward to throughout the season and this years at the Nevis Range, Fort William was no exception. The race was run as part of the Scottish Downhill Series (SDA) series and this was the fifth and final round. After a day's practice in the dry on Saturday riders were relieved to wake to a beautiful, clear sunny day on race day. But with winds forecast to escalate and rain forecast riders were keen to start.
The World Cup track is well known to most and the majority of the course was identical. However, a new section of track on the upper section had been put in, bypassing a few fast, stony corners. Approximately 150m of virgin Aonach Mor grassy peat was going to change significantly over the weekend as ruts and lines developed, in the dry it was rough and proving challenging. Although relatively straight and shorter than the section removed it wasn't fast. The wooded section was also changed slightly with the initial rock garden utilised before the tape took a left and onto an older line, bypassing the road gap and rejoining the World Cup course immediately below. The "motorway" section was unchanged culminating with the exciting Tissot jump, steep descent and drops into the finish arena.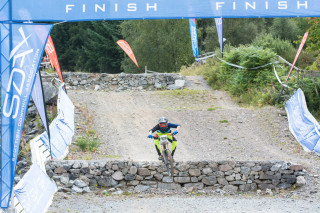 The championship was decided on the best of two race runs in categories, male Juvenile, male Youth, male Junior, Junior Women, Senior Women, Master, Veteran and Elite with the overall Scottish Champion being the winner of this category. Racing began with the Juveniles (aged 12-14) but make no mistake, young perhaps, but slow? No! With the early riders covering the 2.8km track in just over six minutes these young riders show a lot of courage and skills in abundance. After first run William Brodie (Innerleithen Cycle Club) had taken a 14 second lead over Douglas Goodwill (OrangeFox Bikes) with a time of 5:23 and Lewis Duncan (Black Isle MTB) sat in third with 5:49. The Youth category had 25 riders fighting for the top spot and competition was tight. James Wilson (Sick Skills) sat in third with a time of 5:28, Joe Stephenson 10 seconds faster in second and Ryan Brannen (Leslie Bike Shop and Bikers Boutique) a further four seconds quicker taking the hot seat. Surprisingly the Junior men were playing a more cautionary game, perhaps experience kicking in knowing how the infamous Aonach Mor track can bite! After first run Joel Hall sat in third, 5:44 a time slower than the Juveniles! Callum Beaton (OrangeFox Bikes) 5:36 and with a 28 second margin Jake Ebdon led. It was fantastic to see young Aimi Kenyon (f riders inc / OrangeFox Bikes) back at her second SDA. Aged 13 racing U19 would be intimidating to most but Kenyon isn't most and certainly didn't look intimidated storming to a third place after Run 1 with a time of 7:55. Always lovely to see a new rider in this young ladies field, Bethany McCully, 14 (Black Isle MTB) riding her first SDA on a trail bike – fair play! Everything needs to be done to support all young riders, particularly girls and the SDA committee are going out of their way to help support these talented young riders with Green Energy funded coaching. Tea Jensen (Leslie Bike Shop and Bikers Boutique) finished run one in second place (6:48) and Phoebe Gale (Innerleithen Cycle Club) first with an eight second lead. The senior ladies, although a small group of six brave riders displayed real talent Mikayla Parton (Nevis Range) taking run 1 top spot with a time of 6.07, Anna Louise Ferguson (6:18) second and Elena Melton third (6:35).
A small field of Masters saw Alan Blyth take the lead (5:22) and John young took the first run lead with a time of 5:11 in the veterans.
As this was also the fifth round of the SDA Series the Elites and Expert Category ran together, a large field of 41 riders battling for the title Scottish Champion 2018. With a field of talented men including local boys and Canyon Factory Enduro riders Fergus Lamb and Joe Barnes, World Cup podium rider Reece Wilson (Commencal Riding Addiction), Kenta Gallagher (Polygon UR) and defending Champion Ben Cathro (Sick Skills) the notable missing name was two times British Champion, Inverness based Greg Williamson. Times of the top riders were tight, as expected, with Wilson laying down a time of 4:42 and the time to beat for run 2.
After a short comfort break for riders, marshals and officials alike race run two began, again starting with the male juvenile category. The wind was picking up likely to make it harder for these young and, in the main lighter riders and slightly slower times posted by early riders would confirm this. However, Duncan, sat in third knocked four seconds off proving faster times were possible. Goodwill posted an almost identical time remaining in second and young Brodie smashed his first time with a 5:23 which would have seen him with a top 20 place in the Elite / Expert category!
The equally hotly contested Youth boys saw Brannen shave three seconds from his first time and win the Youth Scottish Champion jersey whilst Wilson had a stormer knocking 22s from his first run to finish runner up and Stephenson was third 24 seconds behind Brannen. It is worth noting Brannen's time would have seen him placed 10th in Elites -
New boy on the block, Beaton perhaps pushing too hard couldn't hold on riding the pre-wood section and unfortunately did not finish, but his first run time secured him a credible second place holding of a rapid Ethan McKenzie by a narrow margin who knocked Hall out of third spot. Ebdon's second run time was a second faster than his first but either time was sufficient to see him crowned Scottish Champion by a good margin.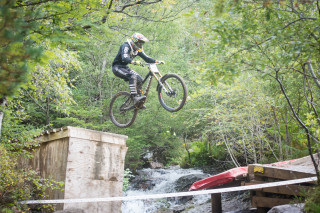 Karra Laing (Mike's Bikes) who didn't finish first race run had a good second run knocking young Kenyon off a podium position to finish third whilst Jensen and Gale remained second and first respectively. In the senior ladies Cairn Bell overcame her run 1 problems laying down a good time of 6:17 knocking Ferguson into third but an on fire Parton remained first by 10 seconds.
With the wind picking up and a light drizzle on the hill conditions for the Masters, Vets and Elites was perhaps less favourable. Master's leader, Blyth posted a time well over a mintute slower than run 1 whereas second placed Brian Keith shaved nine seconds off his. But this was not enough to take the win and Blyth was crowned Master's Scottish Champion 2018 with Matt Sinclair taking third. Conditions surely starting to play a part with all the veteran's times considerably slower than run one, or is it just age….? However Run 1 placings were unchanged with Young taking the win, Alastair McLennan second and Stephen Cousins third.
With all to play for for the Elites battling for Scottish Champion 2018 Cathro in fourth, consistent as ever posted a time less than 0.3s slower but not enough for a podium place. Gallagher, sat in third, came down over three seconds slower but his first run secured him a podium place. George Gannicott was slightly quicker with a time of 4.42 only 0.03s behind Wilson's first run time meaning Reece Wilson is Scottish Champion 2018.
With a huge thanks to the SDA committee for organising and running this year's championships and all sponsors including Green Power for funding and prizes.
Did you race this weekend? Don't forget to tag @ScottishCycling and #SCResults