Last week was a very special one for some lucky children when they got the once in a lifetime opportunity to meet cycling legend Sir Chris Hoy.
Scottish Cycling, in partnership with HSBC UK, hosted a fantastic day of engagement for HSBC staff, local school children, and Scottish Cycling members with six-time Olympic Champion and eleven - time World Champion Sir Chris Hoy.
Go-Ride with Sir Chris Hoy
As part of our mission to get more young people riding bikes, and enjoying all the benefits which cycling can bring, we invited young club riders who are members of Go-Ride clubs to bring a friend to enjoy some cycling fun! Participants took part in a wide range of cycling cycling activities under the watchful eye of the Go-Ride Coaches, from testing themselves on the pump track, to doing the limbo, and getting warmed up with Scottish Cycling Coach Craig McCulloch. Sir Chris Hoy enthusiastically joined in the fun while also taking time to meet the children and answer questions.
Sir Chris was asked what is so special about cycling and why he chose riding his bike over the other sports he participated in as a child, to which he repplied:
"There is something about riding a bike, it's just fun. You put in the hard work and see results. Stay happy and have fun!"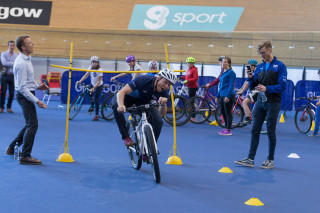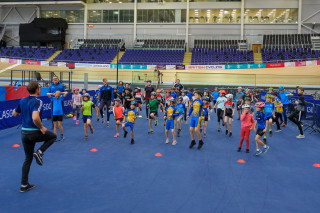 National Club Forum
Later that day, Scottish Cycling hosted their yearly National Club Forum where Sir Chris welcomed members from Scotland's cycling clubs and did a Q&A session.
When asked about the impact his cycling club had on his progression Sir Chris said:
"Clubs wouldn't exist withouth volunteers...it's not just about coaches, it's a community that never goes away. People are what makes a good club."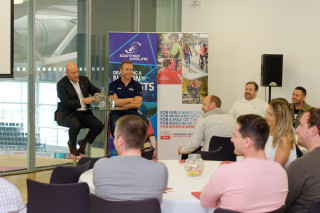 This was the perfect introduction to the rest of the evening, which involved discussion around Events, Development and Communications. A huge thank you to everyone who attented the National Club Forum, your feedback was greatly appreciated and will feed into our 2019 - 2023 Strategy.
Following a successful day, Craig Burn, Chief Executive Officer at Scottish Cycling said:
"We are delighted that the partnership between ourselves, British Cycling and HSBC UK has given us the opportunity to offer such a unique opportunity to our Clubs, local school children and youngsters. Sir Chris Hoy has inspired everyone who attended the event to get more involved in cycling at every level."
You can still have your say in the future of Scottish Cycling by signing up for one of the Strategy Consultation Workshops here. #SCAsksYou