The roads of Edinburgh were packed on Sunday as thousands got on their bikes to take part in Let's Ride 2018.
The three mile closed road route gave riders the opportunity to enjoy views of the Edinburgh Castle and peddle up the famous Royal Mile as many times as they wanted. Meanwhile, the festival area at the Meadows was buzzing with activities for families to get involved in. Scottish Cycling and Edinburgh Road Club coaches ran a skills area which saw nearly 500 kids have a go, building confidence and bike handling ability.
Chief Executive Craig Burn was at the event with his kids and had a brilliant day out. "Recreational cycling is a fundamental part of how we inspire two million more people to get on two wheels and make cycling an everyday activity.
"For us it's about encouraging kids to cycle to school, adults to bike to work and also to get out with your family at weekends and be healthy."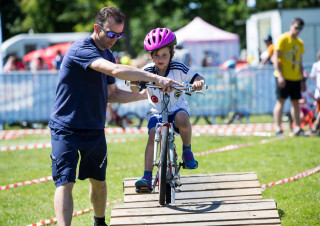 The HSBC Breeze & Ride Social was busy throughout the day with everyone keen to make their 2018 cycling pledge and sign the mural. A fantastic day for cycling in Edinburgh.
Miss out on the Edinburgh event? Don't worry, Let's Ride Glasgow takes place on Sunday 26th August. You can register here .