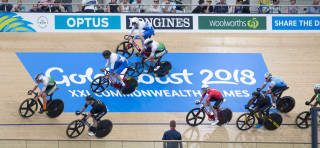 Published: 7 April 2018
Images by: JSH PIX
More medals in the Velodrome
There was a real medal rush for Team Scotland on the third day of track cycling at the Anna Meares Velodrome in Brisbane.
First up Neil Fachie and Matt Rotherham repeated their feat of Thursday by winning the Men's B&VI Sprint against tough Welsh opposition and completing the double double after managing the same at Glasgow 2014. That was followed by a double haul of Silver and Bronze by Katie Archibald and Neah Evans respectably in the Women's 25km Scratch Rach and completed by a remarkable performance from Jack Carlin to win Silver in the Men's Sprint.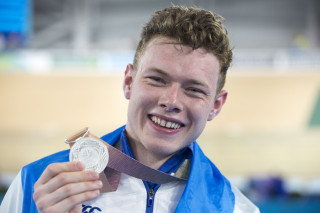 Jack commented after the race;
"Competing for Team Scotland has been a dream of mine ever since I was sitting in the stands at the last Commonwealth Games in Glasgow. I said 'I want to be there one day', and now I have a medal to show that I was."
Fachie and Rotherham made a statement of intent early on when they qualified in World Record time, completing the 200m stretch in 9.568 seconds before cruising through the best-of-three heats unscathed to the final, where they again won the first two to complete their domination of the 2018 event.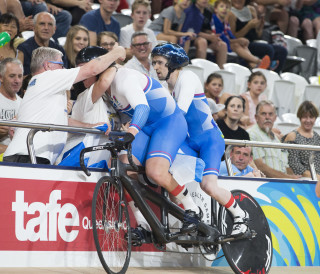 Neah Evans and Katie Archibald we joined in the Woman's 25km Points Race by Eileen Roe who had a solid race and finished in the pack.
Featuring in her first Commonwealth Games, Evans was pleased to pick up the bronze and earn a place among the night's celebrants.
"It was hard work. I knew, having trained with the other guys, that I was there or thereabouts, but it's always hard to prove that in a competition, so I'm really happy to come away with a bronze medal. You go in with half an idea of what you'd like but you've got to be adaptable and go with the race and see how it flows out."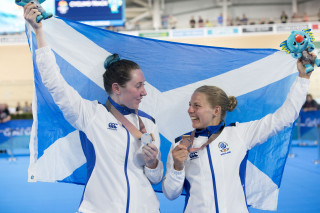 The final Scottish medal of the day came from Jack Carlin. His initial time in the qualifying of 9.650 was a Commonwealth Record until it was narrowly bettered by Australian Matt Glaetzer. His passage to the final was eventful as he fought back to defeat Joseph Truman of England from 1 down, then sailed past Jacob Schmid in the Semi-final without dropping a race. His final against New Zealander, Sam Webster was thrilling as he was pipped at the post by a tire's width.
All three of Team Scotland's riders progressed through to the finals of the Men's 15km Scratch Race but finished outside of the medals in seventh (Mark Stewart), eighth (John Archibald) and 11th (Kyle Gordon), in the characteristically chaotic mass-start race that ran at a breakneck average speed of 54.953 kph.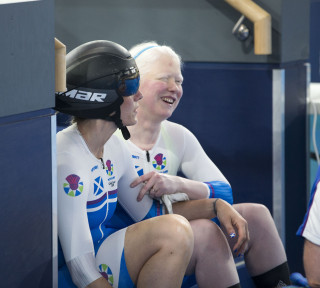 Another race and another magnificent personal best (1;08.993) was still not enough for Eilieen McGlynne and Louise Haston in the Women's B&Vi 1000m Time Trial.
Looking Forward
First up on Sunday on the track for Team Scotland is the Men's 40k Points Race Qualifying. Look out for Kyle Gordon and Mark Stewart in the first heat at 8.47am BST and immediately after, John Archibald looking to continue his excellent Games in heat 2.
Next we get a first look at Jonny Wale in the kilo which begins at 9.47. Jonny will be joined by Callum Skinner who will look to finish his Games with a bang.
At 11.25am BST we will get a final opportunity to see Katie Archibald on the track. She will be looking to take her fourth medal of the week. She will be joined again by Eileen Roe and Neah Evans who will look to build on her fantastic result on Saturday.
The final event of the Track programme will be the Men's 40km Points Race Final which will begin at around 12noon BST. Places for this will be decided in the heats earlier in the day.
You're not going to want to miss out on the finale of what has been a phenomenal event so far!
For more information on Team Scotland and Gold Coast 2018 visit www.teamscotland.scot/
Keep up to date with Scottish Cycling at the Games by following @ScottishCycling on Twitter.