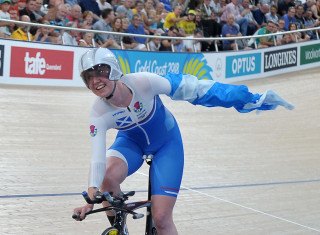 Published: 5 April 2018
Images by: JSH PIX
Cycling siblings Katie and John Archibald made history at the Anna Mears Velodrome in Brisbane tonight as they became the first brother / sister pair to win Team Scotland medals at the same Commonwealth Games.
Katie took first took gold in the Women's 3000m Individual Pursuit (IP) before her brother collected silver in the men's equivalent, 4000m IP, on a stunning day for the family from Milngavie.
Speaking after her gold medal success, Katie Archibald, said: "This feels overly special. It's been a big target for some time to plant my name on an international stage."
Silver medallist, John Archibald, admitted to being inspired by his sister's stellar showing.
"I watched her heat run and the pressure was on her. Her back was against the wall and she pulled out and delivered on the day. That got me going."
Katie Archibald booked her place in the gold medal race with a Games Record time of (3:24.119), breaking the two Games records set, and then re-set, by her Australian opponents in the qualifying rounds.
The times lined up a head-to-head between Archibald and Australia's Rebecca Wiasak, with Archibald a delivering sensational performance to take gold.
Like his sister before him, John Archibald secured his spot in the gold medal race in Games Record time (4:13.51), which remained intact for six further heats before England's Charlie Tanfield clocked 4:11.435 to set-up the gold/silver encounter, with John coming in as runner-up.
"Eight or nine months ago I'd never touched a track bike. I stopped work and went full time into cycling in the last three or four months and gave everything towards it. Scottish Cycling backed me and gave me physio, nutrition, coaching – all the things you need to not worry about anything apart from your own performance. I've gone all blazing into it and luckily I've come away with something I'm really proud of."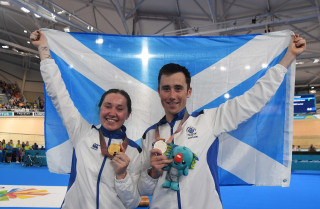 Men's Kierin
Promising 20-year-old prospect Jack Carlin – who won silver in the Keirin at last year's European U23 track championships – put in a powerful and mature display in the Men's Keirin, finishing as the fastest qualifier in the first round of heats, and then second-fastest in the second to reach the final, where he crossed the line two tenths-of-a-seconds outside of the medals in fourth.
There was disappointment for Team Scotland's Olympic medallist Callum Skinner, who didn't finish in the top two from the first round, forcing him into the Repechages route to the second. A fourth-placed finish there meant his track day was over.
Men's Individual Pursuit:
Mark Stewart and Kyle Gordon also raced the Men's 4000m Individual Pursuit however excellent times of 4:20.245 and a six-second PB (4:18.494) were not enough to make the top-four Finals for medals, the pair finishing 11th and ninth in the heats respectively.
It's been a long road for Gordon who took a sabbatical from his job on an oil rig to pursue his Commonwealth dream, sacrificing both his income and the chance to watch his sister walk down the aisle tomorrow (Saturday 7 April).
Kyle said: "I'm absolutely delighted. The sacrifices I've made over the past seven months – leaving my job and getting help from friends and some locals. I also sacrificed my sister's wedding, which is tomorrow, so thanks to her and congratulations on the big day. If it wasn't for her letting me go then I wouldn't have put in a PB time like that at the Commonwealth Games."
Looking Forward
Saturday will be a massive day for Team Scotland in the Velodrome. The 12 Scottish riders will be competing throughout both sessions on the velodrome. The morning will begin with Callum Skinner and Jack Carlin in the Men's Sprint Qualifying at an eye-watering 4.32 am BST! With the semis and finals taking place in the second session at 9.40am BST and 11.45am BST respectably.
The morning also presents another opportunity to see Gold medallists Neil Fachie and Matt Rotherham ride out in the Men's B&VI Sprint Qualifying at the relatively respectable time of 5.08 am BST. The final event of each session on Saturday will be the Men's 15k Scratch where John Archibald will look to build on his incredible performance from today. He will be joined by both Mark Stewart and Kyle Gordon.
In the second session of the day, there will be another chance to see Aileen McGlynn and Louise Haston. This time they will be competing in the B&VI 1000m TT Final beginning at 9.48am BST. Immediately following that we have the Women's 25k Points Race Final with Neah Evans, Katie Archibald and Eileen Roe all featuring.
With an impressive day of racing to come, make sure you check it out and show your support for Team Scotland wherever you are!
For more information on Team Scotland and Gold Coast 2018 visit www.teamscotland.scot/
Keep up to date with Scottish Cycling at the Games by following @ScottishCycling on Twitter.