Effective coaching is at the heart of cycling performance at every level of the sport. Whether you want to teach core bike-handling skills to future generations of riders, learn more detailed riding knowledge to benefit yourself and your local club or have aspirations to mentor the elite, Scottish Cycling has a coaching course that will help you to achieve your goals.
By why would you want to do all this? We caught up with Ally Smith, 48, from the Falkirk Bike Club who was at a level 2 coaching session in Larbert last month to find out…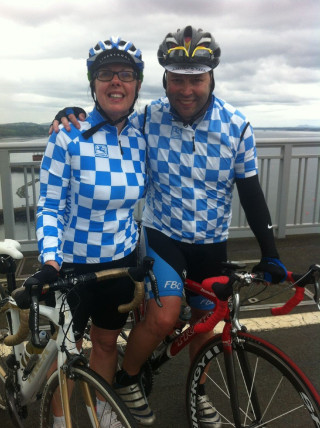 Image: Ally Smith with his wife.
Tell us a little bit about yourself….
"I was initially a swimmer, competing up to international level as well as coaching the Scotland youth squad. I am also a mad Motherwell Football Club fan but I took up cycling eight years ago and have latterly been involved in the Falkirk Bike Club – we have been progressing over the past few years and I recently started my level 2 coaching."
How did you feel the level 2 training went?
"The two day training at Larbert High School was very positive and I was very pleased with how it all went. It was relaxed and informal, but don't get me wrong – you do have to work hard! If you think you can just pitch up and pass your level 2 with attendance then you are wrong. It is a rewarding challenge though! Thankfully the weather was favourable. It is a couple of long days, especially when you haven't sat exams in a long time! There is a lot of literature involved as well as the practical – we were all nervous – particularly when you realise that 12 weeks isn't a long time to get it all completed. However, I am determined and I booked my first aid course straight away so I could get another thing passed!"
What was the group like?
"It was a small group of eight, so it was very focused and you got to know the others quite well and work as a group as opposed to individually. It is nice to be able to have other people to bounce ideas off of – it felt like we were all in it together. We were all from different backgrounds and clubs, some people had never coached before, whereas others were school coaches who did it on a daily basis. I have been to training courses in the past where you go as strangers, learn as strangers and then never talk to the group again – this time we got to know each other, worked together, performed together and will no doubt see each other at events all the time."
How important is it to encourage people to take part in these coaching courses?
"Scottish Cycling is getting so big; these courses are important to clubs because it joins everything up and helps everything fall into place. Each club within Scottish Cycling are trying so hard to progress, some need to more than others, so coaching courses help that – they get people involved, then training, then competing. It is great for the sport."
What is next for yourself?
"I will definitely be going on to do level 3, I told my club there is no point us just doing level 2 then stopping. Currently I coach mostly adults – those that want to come along and get involved – but it would be nice to branch out. Not just to youngsters but to different types of cycling too – Falkirk Bike Club is predominantly road cycling just now."
"Cycling is a people thing, everyone knows everyone else – we need to keep the bridges built that we create and learn from each other. I also want to say how great Keith was training us at the coaching session, and also thank Martin (Regional Development Officer for Central and East) for the work he does. Scottish Cycling – keep it up!"