Rachel Atherton took the win at round two of the 2015 UCI Mountain Bike World Cup Downhill Series in Fort William and with it the overall series lead.
Atherton edged Tahnee Seagrave out of the hot seat, with the British duo claiming a one-two.
With Atherton leading, Seagrave in second and fastest qualifier Manon Carpenter starting her run, a repeat of the world championships and an all-British podium was in store.
With just the final jump left to negotiate, Carpenter was set for second place, but a huge crash sent her to the ground.
In a dazed state, the world champion recovered to cross the line in fourth place.
Watch Carpenter's crash and all of the action from Fort William on Red Bull TV.
With Katy Curd in fifth position, Brits occupied four of the top five placings in the elite women's race.
The day belonged to Atherton though, who took her second win at the venue in three years and with it the series lead.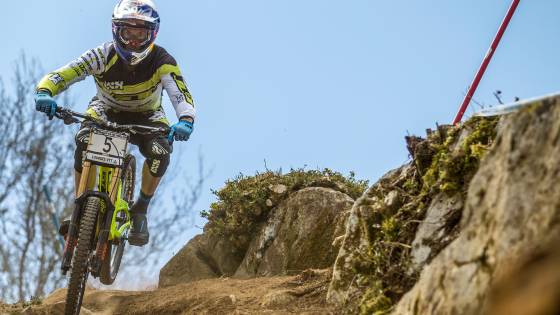 In the men's event, Rachel's brother, Gee was the top British finisher.
In a race won by South Africa's Greg Minnaar, Atherton was adrift by four seconds, due to mistakes in the treacherous lower part of the course, which caught out nearly all of the front runners.
The result put Atherton eighth in the overall standings, while top British contender is Mike Jones in fourth.
Jones was another to suffer the consequences of a track plagued all week by inclement weather, finishing 12th.
Earlier in the day, Laurie Greenland finished second in the junior men's event.
The series continues next week in Leogang, Austria.