Posted: 28 May 2014
---
The wheels are in motion towards Commonwealth Games success after 30 cyclists have been selected today to represent Team Scotland at Glasgow 2014. This is the largest ever cycling squad assembled for Team Scotland at a Commonwealth Games and takes Team Scotland to its biggest ever Games team with 208 athletes selected so far.
Commonwealth Games Scotland (CGS), in conjunction with Scottish Cycling announced the 16 men and 14 women to compete in Track, Road and Mountain Bike events.
Cycling was first introduced in 1934 and has featured at every Commonwealth Games since with Mountain Biking added in 2002. Scotland has amassed an impressive 11 cycling medals at the past three Commonwealth Games and in Glasgow, no fewer than 23 Gold medals are available over seven days of cycling competition, starting with the exhilarating track cycling in the purpose-built Sir Chris Hoy Velodrome from 24 to 27 July.
Sir Chris won four Commonwealth Games medals for Team Scotland – including two Gold – during an incredible track cycling career and the Velodrome which bears his name will showcase 17 events, with Para-Sport Cycling making its Commonwealth debut.
Track cycling kicks off the action on day one of the Games and returning medallists Charline Joiner, James McCallum and Jenny Davis will be out to achieve further success, as will recently crowned World Team Pursuit Champion Katie Archibald. Making her Commonwealth Games debut, Katie will compete in all endurance events and will take every chance to add to her already impressive list of achievements in her short time in the sport.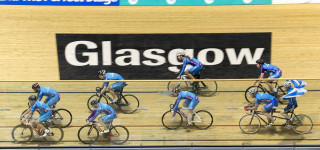 Paralympian Aileen McGlynn OBE will lead the Scottish charge, racing in both the sprint and time trial tandem events. McGlynn has competed at the last three Paralympic Games, winning an impressive six medals: three Gold, two Silver and one Bronze. A further 10 World Track Championship medals and a European Gold place McGlynn at the pinnacle of the sport for blind and visually impaired athletes. She will be partnered with tandem pilot Louise Haston. After only taking up the sport just over a year ago, Laura Cluxton and pilot Fiona Duncan, UCI World Cup Gold medallists, will also be competing for Team Scotland.
In the men's tandem track events, two-time World Champion, London 2012 1km Time Trial Gold medallist and Individual Sprint Silver medallist Neil Fachie is gunning for gold. He will be piloted by Craig MacLean MBE, a London 2012 Paralympic Gold medal winning pilot. Craig, the Team Scotland flag bearer in 2002, also holds a Team Sprint Olympic Silver medal from Sydney 2000 and won Bronze and Gold in the Team Sprint events at the 2002 and 2006 Commonwealth Games.
Two road events, a Time Trial (31 July) and Road Race (3 August) will see the Commonwealth's top cyclists race through the heart of Glasgow and surrounding areas.
The Time Trial will be a battle against the clock over a challenging route (40km for men, 30km for women) that will start and finish at Glasgow Green with a single loop course taking in the great countryside of East Dunbartonshire and North Lanarkshire as well as the city's East End.
The Road Race course, also starting in Glasgow Green, features a 14km circuit taking riders along Argyle Street, Buchanan Street and St Vincent Street before carrying on to the west end of the city where they will pass through Kelvingrove Park and circuit the west end before heading back towards the city centre and the finish. For the men's race, competitors will complete 168km and lap the course 12 times. Female riders will complete 98km over seven laps.
At the Delhi 2010 Commonwealth Games, road specialist David Millar took Road Race Bronze and finished in style with the Time Trial Gold. He would love to bow out with a win at a home Games.
Newcomer Katie Archibald, who started her racing career on a grass track in the Highlands, and has recently competed in the UK Women's Tour will also be joined by her fellow team mates Eileen Roe, Charline Joiner and Claire Thomas to weave through the heart of the city of Glasgow.
In Mountain Biking, 2013 British National cross-country champions Grant Ferguson and Lee Craigie will make their return to Cathkin Braes on the 29 July alongside Gareth Montgomery, Kenta Gallagher and Jessie Roberts. The 5.5km Mountain bike course provides a tough cross-country test across a range of terrain just 20 minutes from the heart of the city.
Team Scotland Chef de Mission, Jon Doig said: "Scotland has always had a strong tradition in cycling and its popularity has gone from strength to strength on the back of the amazing achievements of Sir Chris Hoy and Craig Maclean, the accessibility of the magnificent velodrome in Glasgow and the determination of Scottish Cycling to maximise these fantastic opportunities.
"This 30-strong team is proof of the progress that has been made over the last four years and we look forward to some exciting action on the track, on the road and over the cross-country course at Cathkin Braes."
Commenting on the Cycling Team announcement Gary Coltman, Scottish Cycling's Head of Performance said: "Scottish Cycling is delighted to announce its largest ever cycling team for the 2014 Commonwealth Games. Since the Commonwealth Games in Delhi there has been a dramatic rise in participation in cycling throughout Scotland and I'm delighted to announce some exciting, emerging talent as part of our team for Glasgow.
"There is no doubt that success at the highest level plays a significant part in inspiring more people into sport, and a successful Commonwealth Games right here in Glasgow is an amazing prospect for the future of cycling. The home games are an opportunity of a lifetime for the Scottish riders involved, who are all unbelievably committed and determined to make Scotland proud and we are all thrilled about the opportunity Glasgow provides to contribute to yet further growth and future success of our wonderful sport."
Cabinet Secretary for Commonwealth Games and Sport, Shona Robison said: "Cycling at the 20th Commonwealth Games is set to be spectacular. Congratulations to all the athletes and support staff for their hard work and dedication to Scottish cycling. Whether they are competing at the iconic Sir Chris Hoy Velodrome, in the natural beauty of the mountain bike trail at Cathkin Braes or riding through Glasgow's striking cityscape as part of the road race, Scotland will be behind them all the way."
Also welcoming the selections, Louise Martin CBE, chair of sportscotland said: "I am delighted to see 30 cyclists selected to represent Team Scotland and I congratulate them all. Cycling has really taken off in Scotland in recent years and as its popularity rises, so does the number of high performance cyclists able to compete at the top level on the track and on the road.
"One of the main reasons we are able to prepare world-class athletes across a range of sports is because of the high performance support services provided by sportscotland. With world-class experts, working with world-class athletes, we have every reason to be excited about Team Scotland's prospects at what promise to be the best ever Games."
This brings the total Team Scotland numbers to 208 with an anticipated final team size in the region of 270 athletes.
SELECTED ATHLETES
CYCLING
Men
NAME EVENT BORN/LIVES
Jonathan Biggin Track Sprint Rutherglen/Glasgow
Bruce Croall Track Sprint Edinburgh/Edinburgh
Neil Fachie Track Para-Cycling Aberdeen/Manchester
Andy Fenn Time Trial, Road Race Birmingham/Maidstone
Grant Ferguson Mountain Bike XC, Road Race Peebles/Manchester
Kenta Gallagher Mountain Bike XC Sheffield/Inverness
James McCallum Track Endurance, Road Race Edinburgh/Bellshill
Craig MacLean MBE Track Para-Cycling Pilot Grantown-On-Spey/Cheadle
David Millar Time Trial, Road Race Malta/Girona
Gareth Montgomerie Mountain Bike XC Dumfries/Castle Douglas
Evan Oliphant Track Endurance, Road Race Thurso/Edinburgh
John Paul Track Sprint Wick/Glasgow
Christopher Pritchard Track Sprint Sheffield/Sheffield
Alistair Rutherford Track Endurance Manchester/Manchester
Callum Skinner Track Sprint Glasgow/Manchseter
Mark Stewart Track Endurance Dundee/Dundee
Women
NAME EVENT BORN/LIVES
Katie Archibald Track Endurance, Time Trial, Road Race Walton-on-Thames/Manchester
Laura Cluxton Track Para-Cycling Aberdeen/Tullibody
Lee Craigie Mountain Bike XC Glasgow/Inverness
Jenny Davis Track Sprint Dechmont/Edinburgh
Fiona Duncan Track Para-Cycling Pilot Glasgow/Aberdeen
Anne Ewing Road Race Perth/Edinburgh
Louise Haston Track Para-Cycling Pilot Edinburgh/Edinburgh
Charline Joiner Track Endurance, Road Race Dunfermline/Dunfermline
Aileen McGlynn OBE Track Para-Cycling Paisley/Glasgow
Eleanor Richardson Track Sprint London/Dundonnell by Garve
Jessica Roberts Mountain Bike XC Northallerton/Bristol
Eileen Roe Track Endurance, Road Race Dunfermline/Dunfermline
Claire Thomas Road Race Edinburgh/Edinburgh
Anna Turvey Track Endurance, Time Trial Sunderland/Newcastle