Posted: 25 March 2014
Images: www.ianmacnicol.com
---
Scottish track cyclist, Callum Skinner is putting his best foot forward to support Earth Hour, the world's biggest celebration of our amazing planet. Callum represented Scotland in the 2010 Commonwealth Games and would like to be taking to the track again this summer in the hope of bagging a medal for Scotland. Several of Glasgow 2014's Commonwealth Games venues are also getting involved in the Earth Hour event.
Speaking from the Sir Chris Hoy Velodrome, Callum said: "Getting involved in sport, and in particular cycling, gets you fit and getting on your bike for shorter journeys helps cut pollution. I'm delighted Glasgow 2014 is getting behind WWF's Earth Hour."
Along with millions of other homes and public buildings across the world, the Velodrome itself will be plunged into darkness at 20.30 on March 29. Glasgow 2014, the games organisers, will be switching off the lights at Commonwealth House HQ, while Glasgow Life will be flicking the switch at the Emirates Arena, including the velodrome. Turning off the lights for Earth Hour is brilliant because it shows that the organisers are committed to making Scotland's Commonwealth Games as sustainable as possible.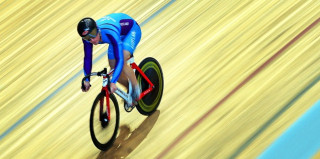 Last year, almost 100 national and local landmarks plunged turned off the lights, including Edinburgh Castle, Forth Rail Bridge, Clyde Arc, Falkirk Wheel and Inverness Castle. They helped to show how important it is that people take action to reduce their energy use. Millions of other monuments across the world - including the Eiffel Tower, Empire State Building, Sydney Opera House and even the Pyramids of Giza - did the same, to dramatic effect.
This year, the Sir Chris Hoy Velodrome is where track cyclists like Callum will get the chance to shine during the Commonwealth Games. But Earth Hour is a chance for everyone to shine brightly for the planet. If you want to shout about the good things that Cycling does for the planet then, #bebrilliant and get involved.
Join them and be an Earth Hour star.