Published: 22 March 2013
Article: Scottish Youth Girls Winter Training
Written by: Miranda Balfour, Ellie Park and Kirsty McFadyen
---
Scottish Youth Girls aspiring to race the Scottish Cross Country Series and/or British Series MTB races have just come to the end of a series of winter coaching sessions - Miranda Balfour reports!
Now in it's second year, Scottish Cycling's Winter Series of Girls only MTB sessions is now under the leadership of Volunteer Coach from Peebles Cycling Club Miranda Balfour (centre)
Miranda report's:

Twelve youth age girls, occasionally joined by Junior and Elite female riders, have worked on bike handling skills, race tactics, roller sessions, core fitness, warm up routines and information on how to train. Converging from all over Scotland they have met up at Comrie Croft, Transgression Indoor BMX Park, Inch Park in Edinburgh, the Commonwealth course at Cathkin Braes and Forfar.
The bike park at Comrie Croft provided a perfect, self contained facility for working on those airborne skills, flying safely and fast. Later on the pump track gave some energetic races and a few laughs and reinforced the skill of pumping the trail for free speed. For the next session, and still on the theme of bike handling they transferred onto BMX bikes, where the Transgression Park staff put them through their paces, throwing their bikes over and round the ramps, jumps and bowls. Not content with only two different types of bike, the road bikes came out next and it was onto the rollers for a taste of indoor training and roller skills, followed by core strength exercises. Mark Young from British Cycling also came along and did a presentation on 'How to train for young athletes'.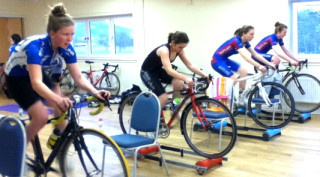 The girls practise an invaluable skill for all young cyclists… rollers!
Over the next couple of sessions cornering became a bit of a recurring theme, first at Inch Park and then at Cathkin Braes. If there's one skill that could really shave time off your race time on the Commonwealth trail it has to be cornering; whether it's round the variously tight and sweeping corners through the trees or ripping it down the 'dual slalom' descent, you want to be good at holding onto the dirt. (Thank you to Freeflow Bikes for letting us base ourselves there and use their toilets during the Cathkin day.)
As it got closer to race season the focus moved on to race pace efforts and race tactics; like where you would push and where you would conserve your energy, where you would drink, where you would overtake and generally thinking ahead. We also did a race specific warm up and talked about appropriate race nutrition, pre-, post- and during.
We can't say we were blessed with perfect weather. A day in Dunkeld had to be relocated on account of the snow, we had our fair share of freezing rain and ploughing through the treacle porridge (mud) at Forfar, but this is Scotland. The effort paid off. The girls showed some skilful riding and posted some good times at the first SXC race.
Scottish Cycling's National Cross Country Coach Paul Newnham commented:
"We wanted to develop the girls only sessions and give young female XC racers the opportunity to learn a broad range of new skills over the winter that they can put into practise in the summer races. From previous experience we have found that the girls can learn better in groups with their own peers...the next step was to bring Miranda in as a coach! This project has worked very well and Miranda has brought new ideas, knowledge and an infectious enthusiasm to the project. I am sure the girls will join me in thanking everyone involved for all her hard work!"
Two of the newest and youngest recruits give their reports on two of the sessions.
Ellie Park writes:
'My experience on these training days was different to the others because I come from a road and track back ground, so I hadn't really done that many MTB races. I had only done two but podiumed at both. Although I loved to go to Glentress I only really did MTB for fun. I knew a lot of the girls already and I'm pretty good friends now with the ones I didn't. I'd heard of Lucy Grant (because she's really fast) and Katy Winton because she is a pro elite and knows Robert Wardell who used to coach me. It felt pretty awesome to be training with these people.
The first day was at Comrie Croft. We didn't venture into the techy trails but used the bike park which had a pump track, drops, berms and jumps. Before lunch we covered pumping, drops and jumps as well. Some of the girls brought a BMX as well as their MTB so they had the advantage on the pump track. We started by practising the technique and then a couple of races (no pedalling allowed). Then we moved onto drops. I remember getting told not to hop off the drop because all it does is make it bigger. It took a while for some of us to stop hopping off the drop, then we moved onto some bigger drops using the same technique, then some of us moved onto dropping off into berms. I couldn't really do that very well but by the end I could do it quite well but needed to go away and practise. We also did jumps before lunch. We were told to let the jump do the work, it meant you were in the air for less time which is good in races but not as fun. I think I also remember Ella doing really well on the jumps on her BMX until she did one doggy jump and had a crash, but Ella just got up and continued; we were all relived that she was okay. By this time everyone was pretty hungry. After lunch we were trying to hit the berms as fast as we could and trying not to brake because all you need is confidence you don't need to brake, use the berm for support and you're fine. That was a great first day of training thanks to Paul Newnham, Miranda Balfour and Richard Park for being the coaches.'
Kirsty McFadyen writes:
"At Inch Park we worked on a variety of techniques which would help us when we came to cornering faster during mountain bike races.
First, all of us showed the way we manoeuvred our bikes during a slalom course. The coaches pinpointed the main issues which were apparent in the group. Each of us were able to corner whilst doing 'monkey arms'. Although some were getting confused which knee to turn in towards the top tube to lean the bike in the right direction. We were shown by Paul how leaning and movement of our hips and knees is extremely important when it comes to cornering. The group then attempted the slalom which was on a gradient descent with some bumps, the course had a mix of basic and sharp turns. Each of us had a few shots and found that when you think about the skills more, the harder cornering becomes!
When most of us had mastered the basic skills we moved on to a steeper course and it was hard to maintain speed as the corners were so tight and because they were so close. I found this extremely difficult and had to complete the slalom at a snail's pace to get the technique right. Paul then directed our attention to the rhythm of the cornering. He demonstrated this by almost sweeping around the series of corners quickly, still with perfect technique. We had a couple more tries at it and then it was time to put our learning into practice.
The group then went to a local trail. We came to an 'S' shaped turn which was steep and challenging. Some rode down with ease. Others had to focus on applying the technique to a cut up muddy hill instead of a grass bank. I found it difficult and almost throughout the whole descent I was trying (and failing) to fight the urge to pull my brakes. We had about four shots each and then did the bend twice, whilst doing the whole trail.
I enjoyed this day very much because we went into depth into the different aspects of the technique, we used the skill in different environments and the coaches talked to us as a group and as individuals to make us perform better.
The different aspects I had to think about to corner better were:
Hips – I had to move my hips sideways and get my weight onto my outside pedal
Eyes –I had to look round the corners
Relaxing –I had to relax
Rhythm –I had to find a continuous and sweeping rhythm."
From the coaches point of view it has been a great experience being involved with the Youth Girls over the last two years. It's been a privilege to watch them develop as riders, to see the strong friendships between them all and to witness girls staying in sport. A big thank you to Scottish Cycling for developing me as a coach and to Scottish National MTB Coach Paul Newnham for mentoring me through my role of coordinating the Scottish youth girls programme. We covered a fair bit over the five sessions, but there's masses more we would like to do and we can see more talent coming up in the pre-youth age. We're looking forward to more sessions next winter.
If you are a youth aged girl, you will be racing MTB at Scottish or National level and you would like to join our future winter training sessions, contact Miranda Balfour mirandabalfour@aol.com.