Updated: 02 July 2012

---
Olympic Torch in Dumfries & Galloway
The Olympic Torch relayed passed through Dumfries & Galloway on it's last leg in Scotland and local clubs and cyclist came out in force to celebrate the historic event.
The torch went through Dumfries, Eastriggs, Annan and Gretna before leaving the country for Carlisle.
In it's last stop of Gretna the last round of the Dumfries & Galloway Active games took place with the cycling events being run by Scottish cycling with assistance from local club Annan Youth CC.
The Active games is a inter schools competition being held throughout the region with competitors qualifying for the final to be held at the David Keswick Centre in Dumfries.
The games cover many of the sports that will be in the Olympics with Cycling being one of the main focuses for the council.
The Cycling events have been run as grass track racing based on the new Omnium competition taking place for the first time in the Olympics to help enthusiastic youngsters have a better understanding of the event when watching the Olympics.
The Active Games heat at Gretna had the added bonus of the competitors being led into the arena in teams by a bagpipe player and the Councils sports academy manager Calum Graham carrying the Olympic Torch.
Scottish Cycling would like to thank Annan Youth CC for their support during the Active Games heats, giving hundreds of youngsters the chance to participate in some bike racing.
Updated: 25 June 2012
---
Some pictures from the 14th June 2012 with Sandy carrying the Olympic torch!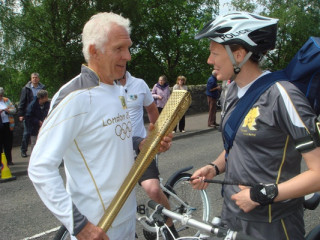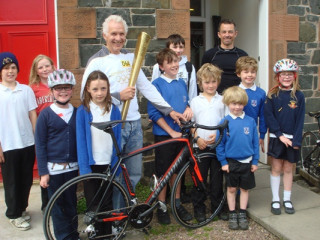 Posted: 14 June 2012
---
Today Sandy Gilchrist, Scottish Cyclist, will be carrying the Olympic torch through his home of Peebles. The 66 year old represented Great Britain at World Championships and Scotland at the Commonwealth Games.
Sandy's nomination story
"As a bicycle mechanic, Sandy attended six Olympic Games and numerous World Championships for all disciplines of cycling and Paralympics sports. He is an inspirational person because he is an unsung hero behind athletes on the Olympic stage making sure every aspect of the bike is ready to per
form at its highest level for the riders.
For four decades, he has been the mechanic for riders like Sir Chris Hoy and hosts of others who have won gold medals and World Championship titles. Sandy also worked with GB Paralympics Rugby team transferring his knowledge of tyres and wheels to benefit the athletes with their wheelchairs. He also works with the GB Olympic Rowing Team who use cycling for cross training. Sandy unselfishly gives himself and his expertise to cyclists not yet on the world stage.
From a kind word to others while riding the mountain bike trails near his hometown of Peebles, Sandy supports all levels of cycling. Sandy also represented Great Britain at World Championships and Scotland at the Commonwealth Games as a cyclist himself. He earned several British and Scottish National Championship titles in his four decades as an athlete."
The torch is estimated to reach peebles at 11.22am. You can watch Sandy carry the touch LIVE on the BBC Website by Clicking here.
Good Luck from everyone at Scottish Cycling!
Posted: 14 June 2012
---
Today Kirsteen Torrance , from the West of Scotland, will be carrying the Olympic torch through Musselburgh.
Kirsteen's nomination story
"I'd like to nominate my friend Kirsteen Torrance. As a full-time active schools co-ordinator Kirsteen spends her days encouraging children in Scotland to participate in and enjoy sports and activities, a role which she passionately believes in. In addition to her dediction to her vocation Kirsteen extends that zeal for sports to her personal life.
For the past 20 years, since her early teens, Kirsteen has been giving up her Saturdays to coach the gymnastics club in her local village in the Borders. Despite moving to Glasgow for her career, which is over an hour's drive away, she still returns every weekend to the village to continue her commitment to the club. And when she isn't encouraging children to take part in sport themselves she's leading by example - whether it is training to participate in triathlons, running marathons or by going windsurfing with her friends.
As someone who is bubbling over with excitement about the Olympics coming to the UK, Kirsteen would be an ideal representative to carry the flame on part of its journey. And seeing her do it would give further encouragement to a generation of children whom she's striving hard to motivate and enthuse, showing them that by being someone dedicated and determined you can participate in something so special. I know that Kirsteen will have a large and very vocal group of supporters if she is chosen to be one of the torch-bearers, because there are a lot of people who'd love to cheer her on that journey."
Good Luck from everyone at Scottish Cycling!
Posted: 12 June 2012
---
Today Kevin Stewart , Scottish Cycling and Coach, will be carrying the Olympic torch through Perth.
Kevin's nomination story
"Bank of Scotland, proud Presenting Partner of the London 2012 Olympic Torch Relay, has selected Olympic hopeful, 20 year old Kevin Stewart from Dundee, as an Olympic Torchbearer. Kevin, who has been hailed as the next Chris Hoy, was selected because of his commitment and dedication to his sport of cycling and inspiring his peers through the coaching and mentoring he carries out in his community.
Kevin is an athlete on the Bank of Scotland Local Heroes programme. Bank of Scotlan
d Local Heroes, in partnership with SportsAid, supports future stars of Team GB and ParalympicsGB on their journey to London 2012 and beyond. "
Good Luck from everyone at Scottish Cycling!