If you haven't heard yet, it has been just over a year since the 2016 Rio Olympics and, almost one year since the 2016 Rio Paralympics.
It was the year that we got to see seven Scottish Olympic and Paralympic Cyclists compete, and the year they took five Olympic and Paralympic medals home between them.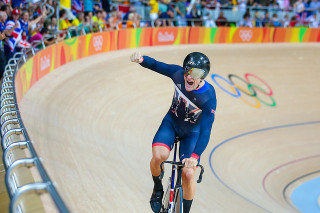 Callum Skinner (above) and Karen Darke (below) both brought medals home from Rio.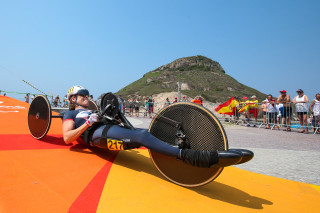 But, as the Olympic closing ceremony revellers celebrated medals long into the night and the Paralympians geared up for their chance at Gold, the team at Scottish Cycling got to work making sure that the Scottish medals left a long lasting legacy.
Scottish Cycling, with the aid of lots of willing volunteers, kick-started #GiveItAGo sessions at the velodrome, offering the opportunity for 8 –18 year olds to try out track cycling for the first time – inspired to do so after watching so many Scots do so well.
109 youngsters came along to the Sir Chris Hoy Velodrome soon after – trying out track cycling, rollers and watt bike competitions with Scottish Cycling Sprint Coach David Daniell, and Jake Lovatt from Glasgow Sport. Olympian Katie Archibald also came along to visit and meet some of the inspired new track riders, many of who returned for our #GetStuckIn Session before Christmas.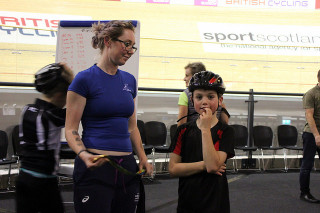 The legacy didn't stop there, moving into 2017, these youngsters started attending blocks of cluster sessions, progressing through their track accreditation and moving on to attend Track Training sessions to further develop their skills. All of these sessions were supported by independent volunteer coaches as well as those from a range of Scottish clubs including Glasgow Riderz, East Kilbride Road Club, Jonstone Jets, Glasgow University, Edinburgh Road Club, Stirling Bike Club, Glasgow Cycle Team, West Lothian Clarion, Velo Club Vitesse, Discovery Juniors and Dundee Thistle. It could not have been done without them!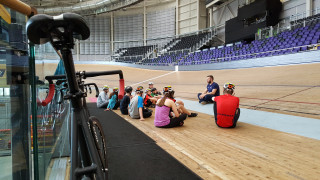 Since the 2016 Rio Olympic and Paralympic Games Scottish Cycling, with the support of Glasgow Life, have engaged with 312 new riders, providing over 800 participation opportunities for young riders to continue further through the pathway many of who are now regular visitors to the Sir Chris Hoy Velodrome.
Gavin Wright took both his children along to the #GiveItAGo sessions, they both now regularly ride the track:
"Tuscany is aged eleven and first became interested in cycling when she took up triathlon. She is a member of Stirling Tri Club and we began looking for other opportunities to get more cycling experience. We saw the #GiveItAGo sessions and Tuscany and her brother Blayne wanted to try it out. They really enjoyed it and got their accreditation at the second go. Tuscany feels the track has really improved her all round cycling and given her another sport to focus on!"
Gary Coltman, Scottish Cycling Head of Performance said:
"There is no question that the Olympics and Paralympics encourage riders coming through the pathway, and those not already enjoying the sport of cycling to get on a bike. The #GiveItAGo sessions are a good example of that and we are delighted that such a high number of those who came along are still riding on the track now. We want to thank all of the coaches who have worked, and continue to work with us to help support this new wave of talent."
If you want to find out more about getting into track cycling please click here. You can also find out more about the Scottish Cycling Performance Pathway by clicking here.