Joanna Rowsell believes that the short but hilly course selected for the 2014 British Cycling National Road Championships time-trial will play into the hands of the track specialists and help facilitate a successful defence of the title she won convincingly in Glasgow one year ago.
The women's time-trial course for 2014 is a big departure from that of the previous year. At just 12.5 miles with a climb that peaks at 25 percent it would seem, on paper, to suit the climbers on the 30-strong start list.
However Rowsell believes that the fitness developed on the track in her pursuiting role will give her a competitive edge on 26 June.
"I'm very excited to be defending my title at the nationals," said Rowsell, who won world titles in the individual pursuit and team pursuit earlier this year in Colombia.
"I've been to see the course and it's quite challenging - it's quite different to the Glasgow course."
Rowsell rides on the road for the powerful Wiggle Honda outfit, which also includes the majority of the world-beating Great Britain team pursuit squad in Laura Trott, Dani King and Elinor Barker.
But it is the singular 'race of truth' that inspires Rowsell and she is undaunted by a course that would seem at odds with her natural environment of the velodrome.
"Glasgow was about 23 miles - this only about 12.5 miles so it's a lot shorter but there's some much bigger climbs in it," Rowsell explained.
"The climb to the finish is on a par with the climb in Fleche Wallone being about a kilometre long averaging about 10 percent and peaking at about 25 percent.
"So very different to the usual time-trials that I'm used to. But I'm really looking forward to the challenge of something a bit different.
"I think that suits me as a track rider," she continued. "We're used to doing big capacity efforts for three to four minutes long so hopefully that will play into my hands. We'll see."
Rowsell comes into the championships in good form, having won the Holme Valley Wheelers Two-Day race a few weeks before the nationals – taking victory on the back of her time-trial performance.
The 25-year-old from Greater London also recently showed her form over the short distance, coming within seven seconds of her personal best for ten miles; a distance just two-and-a-half miles shy of that which she'll face in Monmouthshire.
Rowsell will however have more than a challenging course to contend with and is all too aware of the form of her major rivals. Lizzie Armitstead almost achieved the road race and time-trial double in 2013, taking silver against the clock. Rowsell is mindful that the course may play into the hands of Armistead as much as it will the track specialists, the current runaway world cup leader thriving in hilly, technical terrain.
"I think, big rivals, definitely Lizzie Armitstead," she said. "The course with definitely suit her being quite hilly and technical.
"Also Emma Pooley and Sharon Laws… both very good climbers on the road but with it only being 12.5 miles I think it will play into the track riders' hands…Katie Archibald my teammate in team pursuit but also someone who's been really strong this year.
"Sarah Storey - she's won a lot of time trials with some very impressive times against the men as well so she's going to be a big threat," the defending champion added.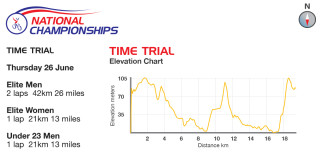 Unlike elite men's defending champion Alex Dowsett, Rowsell will be competing in both the time-trial and the road race and, with a large and formidable squad, the Wiggle Honda rider is hopeful that her team may be able to make strength in numbers pay.
"We've got five girls in that team," said Rowsell. "Lizzie's not got so many teammates [Armistead is in fact the sole Boels Dolmans rider] so we'll be out there to win the race of course.
"I'm not sure what our tactics will be," concluded Rowsell, "I'm not going to reveal them but always to win the gold medal."
The British Cycling National Road Championships take place on 26 and 29 June based in Abergavenny, Monmouthshire, with the time-trials taking place on 26 June and the elite men's and women's road races on 29 June.
British Cycling will be providing live updates from the championships at www.britishcycling.org.uk/nationalroadchampionshipslive.