Location: York Sport Cycle Circuit, York
Event: 19 October 2013
Report: Snowdon Sports
---
Jonathan Dexter (We Love Mountains) sprinted to victory in the first of the York Sport Last Chance Weekender events at the York Sport Cycle Circuit at the North Yorkshire city.
The 25-year-old from Chesterfield was part of a three-man break which got clear early in the race. In-form Dexter – who has tasted victory recently in the Achieve Autumn Cup and the Weaver Valley Autumn Road Race – took the win ahead of Grimsby 24-year-old Joe White, while Herbalife-Leisure Lakes pro Alastair Kay took third.
In other categories, Dirt Wheels rider Mark Scatchard took victory in the 3/4 category race. The 40-year-old from Mirfield in West Yorkshire won ahead of Birdwell Wheelers' Michael Brown, while Mark Tobin (Albarosa) was third in a bunch sprint finish to the 45-minute race.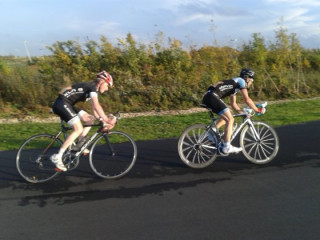 In the third category race, Tobin moved up to take victory from Harrogate Nova rival Simon Cave, while Michael Brown also rode both races and finished third.
GB Cycles team mates Iona Sewell and Brit Tate secured a one-two in the women's race. 26-year-old Sewell just held off her 19-year-old team-mate Tate to take the win, while behind them, Natalia Hudson (Univ of York CC) was third, around 40 seconds back.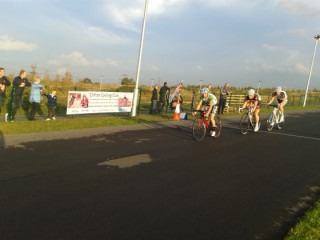 Results:
E123:
1 Jonathan Dexter (We Love Mountains)
2 Joe White (unattached)
3 Alistair Kay (Herbalife-Leisure Lakes)
3/4 Cat:
1 Mark Scatchard (Dirt Wheels)
2 Michael Brown (Birdwell Wheelers)
3 Mark Tobin (Abarosa)
4 David Oliver (unattached)
5 Andrew Richardson (VS Cycles)
4th Cat:
1 Mark Tobin (Albarosa)
2 Simon Cave (Harrogate Nova)
3 Michael Brown (Birdwell Wheelers)
Women:
1 Iona Sewell (GB Cycles)
2 Brit Tate (GB Cycles)
3 Natalia Hudson (Univ of York CC)

Please credit www.britishcycling.org.uk and link back if you use any of our race results.
---
British Cycling would like to thank the organising team, officials and everyone else who helped promote this event. Our sport could not exist without the hundreds of people, many of them unpaid volunteers, who put in many hours of hard work running events, activities and clubs.