|
Location: Stamfordham, Northumberland
Event: 30 June 2013
Report: Andrew Kennedy/Snowdon Sports
|
---
Dean Downing (Madison Genesis) added his name to the list of Beaumont Trophy winners, following on from Russell Downing's win last year.
The 38-year-old follows his brother Russell Downing in winning the race, which this year was a closely-fought contest with any break quickly brought back in by the peloton.
As the race wore on, riders began to look around in the hope of finding team-mates who they could work with to open up a lead.
After countless failed attacks by various riders in the long string of 40 or so at the head of the leading pack, it looked as though one would finally make it stick.
On the final lap, Isle of Man National Team rider Mark Christian managed to catch the bunch sleeping as he peeled off the front and opened up a gap of 17 seconds.
The bunch soon woke up and scrambled to pull the 22-year-old back in. It took a lot of effort but they finally caught him up and as looked likely throughout the race, it came down to a bunch sprint finish.
And it was Rotherham's Dean Downing who managed to pull out to cross the line a bike length ahead of the competition. Coming into the final kilometre, he got into the top five and then took a gamble in the last corner, cutting across and positioning himself the in middle of the track.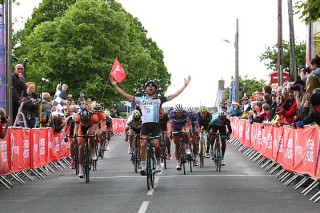 Dan Barry of Node4-Giordana took second place on the podium and young Swede Niklas Gustavsson (Team UK Youth) took third place having won the Elite Leazes Criterium on Friday evening.
Video Interview
Premier Calendar: Dean Downing speaks after 2013 Beaumont Trophy win from British Cycling on Vimeo.
Speaking after the race, Dean said: "This was a big win for me at this stage of my career. I used everything I had to get into a good position going into the final corner and used the same technique my brother Russ used last year.
"The race today was very tough for me with strong winds and the speed the guys were riding up the Ryals. The riders are getting younger and better with each year and they take some beating.
"I got shelled out the final time up the climb but with the help of my team mates I managed to get back on. This is a really good year for me, Madison Genesis are a great team and I'm very happy to get this win for them. We'll be fighting all the way through the rest of the Premier Calendar."
Results:
1 Dean Downing (Madison Genesis)
2 Dan Barry (Node4-Giordana)
3 Niklas Gustavsson (Team UK Youth)
4 Tom Stewart (Team Raleigh)
5 Lachlan Norris (Team Raleigh)
6 John Tanner (Strategic Lions CC
7 Yanto Barker (Team UK Youth)
8 Ryan Mullen (Team IG-Sigma Sport)
9 Tom Barras (Wheelbase Altura MGD)
10 Roman van Uden (Node4-Giordana)
Please credit www.britishcycling.org.uk and link back if you use any of our race results.
---
British Cycling would like to thank the organising team, officials and everyone else who helped promote this event. Our sport could not exist without the hundreds of people, many of them unpaid volunteers, who put in many hours of hard work running events, activities and clubs.